Boothbay Region Fish & Game Assoc.
2018 Membership Renewal & Newsletter
Meetings 3rd Wednesday of every month at 7:30 at the Clubhouse
The Annual Meeting and election of officers will be Jan.17th at 7:30 p.m. at the clubhouse.
Remember, the gate combination will change on Jan 17th. Bring your renewal to the meeting to get instant gratification of a new badge and lock combination card! Web site: www.brfga.com
President's Message
2017 was another year of many accomplishments by club members. We started out by presenting long-time member Curt West with a plaque to commemorate his 67 – yes, that's right, 67! – years as member. In February we raffled off a new Ruger .22 rifle, kindly provided at cost by Linc Sample, which was won by Elbridge Giles and netted nearly $1,100 for our treasury. At the same time we also started the process of designating club property as a Tree Growth Wood Lot. The club spent $1,040 for a management plan to be drawn up, but was reimbursed for $250 by the state. The project was successful, and our annual property tax has now been significantly reduced.
Our work day in May saw a good turnout, including a number of high-schoolers fulfilling community service requirements, and lots of maintenance projects were completed including a wheelchair-friendly path to the fishing dock. Attendance at our first Youth Day was something of a disappointment, but it was felt that spring may be too busy for kids so we're rethinking the timing. A number of range improvements were made in the spring and summer (see Range Report), so it's fair to say that our ranges have never been safer and in better condition thanks to our dedicated volunteers. The driveway and parking lot received some much-needed upgrades as well.
The club held a Sporting Goods Flea Market in front of Timber's Tire & Auto during the Fall Foliage Festival in October, with items donated by club members, and $850 was made for the club. That was very encouraging, so we plan to hold another one this coming fall. And on top of that, a beautiful 30-year-old but never fired Hawken CVA .50 cal rifle and accessories were donated by member Dale St Pierre and raffled off in November (won by yours truly!) which netted $713 for the club. The firearm raffles have gone really well, and we plan to hold several more in 2018. And, in November, the club again voted to support the Food Pantry with a check for $300.
A new wrinkle this past fall for the club was the initiation of a Range Orientation program for both new and existing members. The Board of Directors put a lot of thought into this, and felt that everyone should understand the range rules and procedures via a 30-minute orientation conducted by an approved member or officer. Participation has been very good so far, and as of January 17, 2018, all members who intend to shoot at the club will need to complete an orientation before they can use the ranges.
Member involvement was again in high gear this past year. We averaged 25 members per meeting, thanks in no small part to all those who provided entrees, side dishes and desserts at the meetings, which included Timber & Michelle, Ken, Paul Perry, John Splaine, Dave Rumney, Steve & Christine, Martin, Sue Flaherty, Rusty, and Colleen Gaffey. And to top it off, Jeff Keys donated a gas grill to the club, and Steve Rubicam gave us a snowblower. Many thanks to both!
Finally, I would like to thank all our members who volunteered their time and expertise in 2017, and special thanks to our directors for steering the club in the right direction. We're looking forward to a great 2018. –Dennis Blackman, President, 2017
2017 Fishing Report
The February Kids-Only Ice Fishing Derby was the start of the 2017 season at the club. There was a large, enthusiastic turnout of pre-sixteen-year-old anglers with many fish landed and released. In November 2016, DIFW hatchery staff stocked Wiley Pond with 700 fall fingerlings and a mix of larger trout in preparation for the derby. Along with a few holdovers, they provided fast action through the ice.
April 1st opening day is normally a festive occasion at the club with a good group of winter-worn members, rods in hand, casting to hungry brook trout on Wiley Pond. This past spring was no exception and the bite was on. Early spring fishing is the most productive.
One of the region's earliest productive spots is West Harbor Pond's north end where hungry bass lurk near the culverts and readily take a spoon. One tactic is to cast onto the skim ice near openings and ease the lure off the edge into the water and retrieve.
Adams Pond, Knickerbocker, and Waldoboro's Medomak River continue to provide trout action for spin & fly folks until rising summer temperatures drive brookies deeper and the bass bite is on for lures and top-water action near the lilly pads. The local ponds have good populations of smallies and largemouths willing to hit hard and provide an acrobatic show right into fall.
By July, salt water angling was hot with the arrival of loads of mackerel and schoolie stripers. Alas, the bluefish didn't arrive but quite a few close to, and over 28", keeper bass were landed throughout the summer. In Linekin Bay, schoolie action was non-stop while Mill Cove provided action with the larger bass right into October. One angler reported success casting and trolling Clouser Minnows and Leftie's Deceivers on a fly rod for schoolies along the seaweed line next to shore while others reported best success with larger stripers on live and cut bait or lures and plugs.
Small schools of bluefin tuna and pods of whales were spotted outside Squirrel and Damariscove Islands on several occasions and ground fishing was productive out on the banks. Limits of haddock and many pollock were brought in and while cod seemed plentiful, there was a no-take closure in effect.
Hopefully the mackerel and stripers will be back in 2018. The schoolies should have grown a few inches and the mackerel could attract some bluefish which have been scarce the last several seasons. --Steve Rubicam
Range Committee Report
A lot of work was done on the ranges in 2017. The target frames on the 100-yard range were replaced on Work Day in May, and several volunteer members pitched in and removed the front wall of the 100-yard shoot house as well. The wall was replaced and stained shortly thereafter, and Dennis and Ken built molds and cast ten all-new shoot benches out of concrete for rock-solid bench-rest shooting. The duo also cast seven concrete benches for the new 50-yard range, which came out perfect. Kudos to these two guys for making all that happen! The cost for the new benches were offset by the club allowing members to "purchase" a bench for $100, and a brass plaque commemorating that member, or a person he chooses, will be affixed to each bench shortly. All 17 benches were "purchased" within the first week, and several donations were received as well, which gave a nice financial boost to the club that paid for the new construction.
The pistol range berms were increased in height to provide additional safety, as was the 100-yeard berm. The ledge in front of the 100-yard range targets was covered with fill for added protection, and in general the ranges are now in great shape. The implementation of Range Orientations (see President's Message) this past fall was another step towards improved safety, and have been well received. Finally, members need to be aware that all club firing ranges are closed for the entire month of February 2018 so that youngsters may use the pond for ice fishing.–Barry Gibson
2017 Kids' Ice Fishing Derby A Success!
The Boothbay Region Fish & Game Association's Annual Kids' Ice Fishing Derby was held on Wily Pond on Saturday, February 18th, and the weather and the fish were more than cooperative.
Approximately 20 kids and as many adults turned out for the event. Sunny skies, light winds, and temperatures in the low 40s made for pleasant conditions despite some slush that formed on top of the ice as the morning progressed.
Fifteen brook trout were entered in the contest by the 2:00 pm deadline. First place, good for $50 cash, went to Jake Kelley for a 14 ¾" fish. Second place, for $25 cash, went to Andrew Meader for his 14 ½-incher, and Dylan Plummer finished third and received $10 cash for his 14-inch trout. Other contestants who entered fish included Robert Shaw, Keegan Murray, Isaac Lewis, Henry Currier, Makayla Pinkham, Hunter Ryan, Laura & CJ Dean, and Emery Lorrain.
Fish & Game Club members handed out a number of nice door prizes, including rod and reel outfits, ice traps, and tackle boxes at the awards ceremony in the clubhouse.
Kids and adults alike enjoyed the hot dogs grilled and steamed by Timber Brown in the clubhouse kitchen, sandwiches provided by Amy Shaw, hot chocolate, coffee and sodas, and a variety of cookies, chips, and other treats.
The Club would like to extend special thanks to those who volunteered their time and talents to ensure the success of the event, including Timber and Michelle, John Splaine, Keith, Ken, Dennis, and Sue Flaherty. The Kids' Ice Fishing Derby, which is free and open to all children under the age of 16, has become a popular winter event and the club is planning on holding it again this February.
2017 Saltwater Tournament Recap
The 13th Annual Boothbay Region Fish & Game Association Saltwater Fishing Tournament was held August 12th and 13th, and the nice weather drew a small crowd of enthusiastic entrants. The fishing for mackerel was very good, and three pollock and one legal-size striper were entered.
The winning striper in the Adult Division was a 31-incher caught by Ron Campbell, who received a check for $200. There was no second- or third-place striper entrant, and no bluefish were entered again this year.
The Junior Mackerel Division was hotly contested, with several dozen fish entered. When the dust settled, Andrew Meader had the largest, a whopping 13 1/4-incher, good for $50. Danny Gray came in second with a 12 7/8-incher and took home $25. Joe Gray came in third, and Jack Kaler and Tommy Gray took fourth and fifth respectively, all good for $10 cash prizes.
The Junior Pollock Division was won by Jake Kelley, who took home $50 cash for a 12-incher. Andrew Meader came in second with a 10 3/8-inch fish good for $25, and Jack Kaler took the third-place pollock, which earned him $10.
Area businesses responded generously to the tournament, including $50 from The First, $50 from Robinson's Wharf, $50 from the Carl Larabee Insurance Agency, $50 from The First, $25 from the Harold Bishop Insurance Agency, $50 from Bath Savings, and $25 from Joan Brown of Brown's Wharf Inn, all of which went towards the cash prizes. Grover's Hardware donated a nice rod and reel outfit, F&G club member Su Flaherty donated two rod and reel outfits and a fishing creel, and Steve Rubicam donated two rod and reel combos, all of which were awarded as door prizes in the Youth Division. And finally, the Junior Grand Door Prize of a brand-new bicycle donated by Rubicam Photography and Shark Six Charters went to Everett Kaler.
Fall Turkey Shoots
The 2017 Turkey Shoots were again a success for the club. Shootmaster Tom Davis did his usual great job of running them, and Keith filled in admirably when Tom was unavailable. The shoots were reasonably well attended, and we lost one due to weather, but everyone had a good time and the club treasury received a nice boost. Again some of the younger competitors were impressive this year, and gave a few of the old-timers a run for their money! Timber and Michelle did another terrific job in the cook shack with burgers and dogs, and also even grilled up breakfast sandwiches on one Sunday. We're hoping to come up with some ways to increase attendance in 2018, so if anyone has any ideas, let us know. Many thanks go out to Tom, Keith, Timber, Michelle, Ken, Dennis, and all those who contributed to the Turkey Shoots' success. –Barry Gibson
2017 Clayton Dodge Life Skills Award
The club did not receive any applications for this award for 2017, but we're hoping that we will be able to present it again in 2018. If anyone knows of a young person pursuing further education, job training, or a vocation after graduating from high school, please encourage him or her to apply for this one-time cash award. Details and requirements are on the club website (www.brfga.com) under "Scholarship Fund."
Click Here for your renewal form.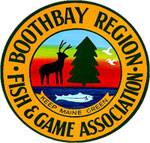 P.O. Box 408, 447 Dover Rd., Boothbay, ME
To email the club: info@boothbayregionfishandgame.com
© All rights reserved 2016 Boothbay Region Fish & Game Association
Web Design by KaSondera at: www.completewebpagedesign.com