Boothbay Region Fish & Game Assoc.
2017 Membership Renewal & Newsletter
Meetings 3rd Wednesday of every month at 7:30 at the Clubhouse
The Annual Meeting and election of officers will be Jan.18th at 7:30 p.m. at the clubhouse.
Remember, the gate combination changes on Jan 18th. Bring your renewal to the meeting to get instant gratification of a new badge and lock combination card! Web site: www.brfga.com
President's Message
This past year was filled with accomplishments for our club. To kick off 2016, the club footbridge (which was actually the swing center span for the Boothbay Harbor footbridge 40 or 50 years ago!) was totally revamped due to the tireless efforts of a core group of member volunteers, and should now last many decades into the future. A special hinged gate was even installed so that disabled members can easily fish from the bridge anytime they want!
Another major project that had been on the club's radar for many years finally became reality. Eagle Scout Draco Peaslee of Southport presented a proposal to build a new clubhouse porch and handicap ramp back in 2015, and it was finally completed this fall with the help of several dedicated club members. The pathway from the bridge to the clubhouse was also improved, so club meetings and activities are now "handicap friendly," and one long-time member in a wheelchair was thrilled to attend a meeting in the club house for the first time since he was a boy!
Our annual Work Day, held on May 14th, was a huge success. A number of high school seniors, eager to complete their community service requirement for graduation, turned out and really pitched in, so a lot of maintenance, repair, painting & staining, and clean-up issues were resolved in just one day.
Many club members were concerned about Question 3 on the November ballot that would have required some unreasonable red tape for Maine citizens wishing to loan or pass along firearms to friends and family. Linc Sample was instrumental in getting the word out to vote "No on 3" in the Boothbay area, and was able to provide lawn signs and bumper stickers to like-minded members. Fortunately, Question 3 was ultimately voted down state-wide.
Again in 2016, the club voted to purchase 30 holiday food boxes from Hannaford to be donated to the Boothbay Region Food Pantry at the Congregational Church. Although the club doesn't have a huge treasury, we feel it is important to reach out and lend a helping hand to those in our community who are in need.
And again this past year, turnout at monthly club meetings was very good, averaging 26 members, in no small part due to the excellent suppers that were provided by members including Tammy & Dave Steinmetz, Blaze & Ted, Christine Rubicam, Andy Davis, John Splaine, Timber & Michelle, and Ken Anderson.
Finally, I would like to thank all our members who volunteered this year in so many ways -- repairing the bridge, building the new porch, helping out with the fishing tournaments, maintaining our web site, rebuilding target frames, and all the other things that help make our club fun, attractive, and valuable to the community. And, a special thanks to all our officers and directors who donate their time and talents to keep the Association headed in the right direction! –Dennis Blackman, President, 2016
2016 Fishing Report
As of April 1st, the usual Maine freshwater opening day, ponds in the region had already been open for two weeks, providing a fine start to the season. DIF&W decided on an early start due to the low winter ice fishing pressure resulting from lack of safe ice. Multi-trout catches were not uncommon during those first weeks while the fish were hungry from their winter respite. Adams Pond, Knickerbocker, and Wiley provided anglers good action through the spring, but on the Medomak River in Waldoboro low flows quickly slowed the fishing. As lakes warmed the trout went deep, making large and smallmouth bass the go-to species for anglers using plugs, lures and spoons through the summer and into the fall. The easiest spot where a lure could be cast locally was the north end of West Harbor Pond where food washes through the culverts into the lake and some large bass hang out. If a lure was cast to the ice line an occasional spring bass might oblige with a vicious take. The trout bite activated again when fall temperatures dropped into the 40s to low 50s along with cooler nights, and it continued into December with some very large and beautiful brookies being released. .
The first schools of early stripers visit our area in May, giving hope that the big bass and bluefish will not be far behind. This season, as last year, the blues failed to appear but "schoolie" stripers were plentiful in the rivers and could also be hooked around the region as the summer progressed. Some of the hot spots were Mill Cove, Boothbay Harbor, between Mouse and Burnt islands, in Linekin Bay, and around Ocean Point, but many were well under the measure and had to be released. Reports from coastal anglers fishing both in and between the Sheepscot and Damariscotta Rivers and "The Beach" indicated it was another challenging season with the newly enacted 28" lower limit. Most of the occasional over-40" trophy fish came from "The Beach" as usual, but daily reports there were mixed.
In the fall of 2016, DIF&W stocked Wiley Pond with 700 fall fingerling brookies from 4"- 9" and 100 14" and larger trophy trout in preparation for our upcoming 2017 Youth Ice Fishing Derby in February. –Steve Rubicam
Range Committee Report
2016 was a productive year for range upgrades. Wording for new signage on both range buildings was developed by the Committee and approved by the Board of Directors. Stephanie Hawke and Hawke Motors offered to donate any computer generated vinyl lettering for the project. Stephanie's daughter Lelia did a superb job with layout and production. The club purchased MDO sign plywood to insure a long lasting product and the resulting signs are a great addition to the club. The committee has since designated official ranges hours to be 8:00 a.m. to sunset, and signage will be added to reflect that.
Several committee members met at the range one Saturday and reinforced the shoot house hatches with plywood panels. More work will be needed but for now they are easier to keep together.
The committee had talked about finding a way to keep cartridge casings from falling into the gap between the floor and walls of the shoot house. When prepping for the stain job it was discovered the posts in the front of the building were starting to rot. Thanks to efforts by Ken Anderson and Dennis Blackman repairs were made, forms built and through generous discounts on concrete by Wayne Brewer, those two along with Jeff Keyes and Linc Sample were able to extend the slab to solve the wall and gap issues..
Work was begun on a shoot house for the 50-yard range, again with the generosity of Wayne Brewer. That work will continue as time and money permit. Other future projects include new shooting benches as well as berm improvements on the 100- yard range and the pistol range.
Finally, the club is raffling off a beautiful new Ruger American .22 bolt-action rifle valued at $359.00. Tickets are $2 each, $5 for three, or $10 for six. Books of six are available from Timber Brown at Timber's Tire & Auto on Rte. 27. Club members are strongly encouraged to pick up a few books and sell the tickets to friends and family. The drawing will be held at the club meeting on March 15th. This should be a great fund-raiser for the club! –Linc Sample, Range Committee Chair
2016 Kids' Ice Fishing Derby A Success!
Our 2nd Annual Kids' Ice Fishing Derby held at Wiley Pond on February 20th, started out rainy but the enthusiasm couldn't be dampened.
Approximately 25 kids and 15 adults braved the early morning precipitation and watery, slippery ice to drill holes and set up traps. The first brook trout was entered at 8:28 a.m. by Andrew Meader. From then on a "steady pick" ensued, with three or four fish an hour brought to the clubhouse to be measured, with the last one entered at 1:57 pm, just shy of the 2:00 deadline. Weather conditions improved as the morning progressed, and by the end of the tourney skies were clear and the sun was out.
Eighteen trout were entered. First place went to Miqueias Biasuz for a 12.5" fish, good for the top cash prize of $50. Second place went to Emery Lorraine for a 12.25" trout that garnered a $25 prize, and Emery also took third place with an 11.75-incher, good for $10. Lydia Currier came in fourth with an 11 3/8" brookie and also won $10, and Andrew Meader rounded out the pack in fifth place with his 11.25" trout, and took home $10. Other contestants who entered trout included Stewart Salom, Robert Shaw, Chase Licursi, Anthony Barter, Henry Currier, Nick Morley, and Sorcha Salom.
Club members also handed out a dozen door prizes to the young contestants, which included ice trap outfits, a rod and reel, tackle box, lures, and a $25 Cabelas gift card donated by member Tabor Young. Board member Tammy Steinmetz and VP Ken Anderson were in charge of the food, which included a wonderful venison stew provided by Andy Davis. President Dennis Blackman kept the wood stove stoked in the club house and measured many of the fish entered, and other club volunteers including Rusty Court helped keep things moving along. Terrific event!
2016 Saltwater Tournament
The 12th Annual Boothbay Region Fish & Game Association Saltwater Fishing Tournament was held on August 13th and 14th, and the calm weather drew a crowd of enthusiastic entrants. The fishing for mackerel and pollock was very good, and two legal-size striper over 28 inches were entered.
The winning striper in the Adult Division was a 30 3/8-incher caught by Bernie Meader, who received a check for $200. Nick Morley caught a 29 3/4-inch fish, good for second place and $100. There was no third-place striper entrant, and no bluefish were entered.
The Junior Mackerel Division was hotly contested, with several dozen fish entered. When the dust settled, Joey Gray had the largest, a whopping 14 3/4-incher, good for $50. Tommy Gray came in second with a 14-incher and took home $25. Jack Kaler came in third, and Andrew Meader, Danny Gray, and Matt Sullivan took fourth, fifth, and sixth respectively, all good for $10 cash prizes.
The Junior Pollock Division was won by Andrew Meader, who took home $50 cash for an 11 1/8-incher. Matt Sullivan came in second with a 10 3/8-inch fish good for $25, and Tommy Gray took the third-place pollock, also good for $10.
Area businesses again responded generously to the tournament, providing cash, merchandise, and gift certificate as door prizes, which were awarded at the close of the event. The Junior Grand Door Prize, a beautiful brand-new bicycle donated by Stephen Rubicam Photography and Shark Six Charters, was won by Jack Kaler.
Fall Turkey Shoots
The Turkey Shoots were again a success for the club, and Shootmaster Tom Davis did his usual stellar job of commandeering them. The shoots were moderately well attended, and we lost one due to weather, but the last shoot on November 6th was standing room only! Some of the younger competitors were truly impressive this year, and a real "bench-mark" was reached at the final shoot when ten-year old Robert Shaw won a 100-yeard sporting rifle bench rest event, and got his picture in the Register being congratulated by perennial bench rest winner Bob Robertson! Timber and Michelle did a fabulous job in the cook shack with burgers and dogs, and also introduced grilled onions as a topping, which were an instant hit. We're hoping to get some pistol events in 2017, and there's been discussion of holding some junior BB-gun competitions at next year's shoots as well. Many thanks go out to Tom, Keith, Timber, Michelle, Butch, and all those who contributed to the Turkey Shoots' success.
2016 Clayton Dodge Life Skills Award
This past year's award and a $400 honorarium went to Douglas Steinmetz, son of club board members David and Tammy Steinmetz of East Boothbay. Doug is studying Automotive & Diesel at Washington County Community College in Calais, and reports: "School is going great! I'm learning a lot of new stuff. Teachers are nice and willing to help. Lots of good fishing spots up here too! Thank you for the scholarship to help me go to college." Congratulations from all of us, Doug!
Click Here for your renewal form.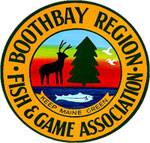 P.O. Box 408, 447 Dover Rd., Boothbay, ME
To email the club: info@boothbayregionfishandgame.com
© All rights reserved 2016 Boothbay Region Fish & Game Association
Web Design by KaSondera at: www.completewebpagedesign.com