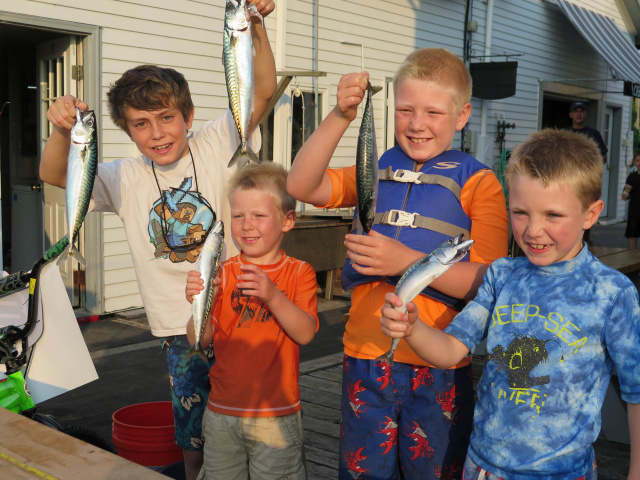 2014 Youth Contestants
******************
2016 Fish & Game Assoc. Saltwater Tourney Results
The 12th Annual Boothbay Region Fish & Game Association Saltwater Fishing Tournament was held this past Saturday and Sunday, August 13th and 14th, and the calm weather drew a crowd of enthusiastic entrants. The fishing for mackerel and pollock was very good, and two legal-size striper over 28 inches were entered.
The winning striper in the Adult Division was a 30 3/8-incher caught by Bernie Meader, who received a check for $200. Nick Morley caught a 29 3/4-inch fish, good for second place and $100. There was no third-place striper entrant, and no bluefish were entered again this year.
The Junior Mackerel Division was hotly contested, with several dozen fish entered. When the dust settled, Joey Gray had the largest, a whopping 14 3/4-incher, good for $50. Tommy Gray came in second with a 14-incher and took home $25. Jack Kaler came in third, and Andrew Meader, Danny Gray, and Matt Sullivan took fourth, fifth, and sixth respectively, all good for $10 cash prizes.
The Junior Pollock Division was won by Andrew Meader, who took home $50 cash for an 11 1/8-incher. Matt Sullivan came in second with a 10 3/8-inch fish good for $25, and Tommy Gray took the third-place pollock, also good for $10.
Area businesses responded generously to the tournament, including $100 from First Federal Bank, $50 from Mine Oyster, $50 from Robinson's Wharf, $50 from the Larrabee Insurance Agency, and $50 from The First, all of which went towards the cash prizes. Grover's Hardware donated a nice saltwater rod and reel outfit, as did Oak St. Outdoors, and Timber Tire & Auto donated a bait bucket and a very nice tackle bag. The Boothbay Railway Village donated four passes, and the Boothbay Region Fish & Game Association donated five youth rod and reel outfits, all of which were awarded as door prizes for entrants in the Youth Divisions. And finally, the Junior Grand Prize, a beautiful brand-new bicycle donated by Stephen Rubicam Photography and Shark Six Charters, was won by Jack Kaler.
Tournament organizer would like to extend their sincere appreciation to Tom Philbrick of the Boothbay Lobster Wharf for hosting the weigh-ins on both Saturday and Sunday, to Doug and Elise Roberts of Oak Street Outdoors for handling the registrations, and to Grover's Hardware, the YMCA, and Oak St, Outdoors for displaying the Junior Grand Prize bicycle in the days leading up to the tournament.
Proceeds from the popular event benefit the Fish & Game Association's Clayton Dodge Scholarship Fund as well as many other Association programs.