Boothbay Region Fish & Game Assoc.
2019 Membership Renewal & Newsletter
Meetings 3rd Wednesday of every month at 7:30 at the Clubhouse
The Annual Meeting and election of officers will be Jan.16th at 7:30 p.m. at the clubhouse.
Remember, the gate combination changes on Jan 16th. Bring your renewal to the meeting to get instant gratification of a new badge and lock combination card! Web site: www.brfga.com
President's Message
2018 was another good year for the club, and we got a lot accomplished. The newly-mandated Range Orientations went very well, and the 50-yeard pavilion was finally completed (see Range Report). John Splaine got some great weatherproof club decals printed up, which are available to members for $2 each, and in addition John generously repainted the club house ceiling (with assistance from Ken) in March. Clean-Up Day in May was a success, with a toe rail installed on the handicap ramp, a new storm door fitted to the clubhouse, and a lot of dead trees and brush removed. Member Al Battistini donated $150 towards a new club sign for Dover Rd, which will be installed this coming spring, and in April long-time member Arthur Reed generously donated a beautiful .35 caliber Marlin lever-action rifle, which we raffled off for a total of $703, giving a nice boost to the club treasury. Our 2nd Annual Club Flea Market held at Timber's Tire & Auto in October during the Fall Foliage Festival was another big success, which netted the club $1,175.00 and has become our largest single fund-raiser.
The Salt Water Fishing Tournament was not held in 2018 due to decreasing participation during the past several years, and the club is discussing various ways to revive it – perhaps make it a kids-only event – and we're hoping to reinstate the once-popular tourney in 2019 or 2020.
New in 2018 was the club's formal affiliation with the Civilian Marksmanship Program, initiated by member Merritt Blakeslee, which allows BRF&GA members to purchase government surplus firearms, ammunition, and other shooting-related items from the CMP.
Overall meeting attendance for 2018 was good, averaging 25 members, and some great food was served up by a number of volunteers including Timber & Michelle, Paul Perry, Peter Kidder, Betty Blackman, the Rubicams, Ken Anderson, Colleen Gaffey, Arthur Reed, Dave Rumney, Martin Page, and Barry Gibson. Two meeting presentations, one in February by Carl Schmidt on Civil War-era sniper rifles, and a powerpoint presentation by Steve Rubicam in June on trout fishing in the Rangeley Lakes Region, were well received and enjoyed, as was Betty Blackman's hands-on demonstration of training and working bird hunting dogs at the August meeting. These informative and entertaining programs are a real benefit of membership in our club, and we're hoping to hold more of them this coming year.
Finally, members voted again this past fall to donate $300 to the Boothbay Region Food Pantry. The club takes very seriously its role in the community, and is proud to help out those in need.
I would like to close by thanking all our members who volunteered their time and talents in 2018, and special thanks to our diligent officers and directors for steering the club in a direction that seems to continually ensure success. –Dennis Blackman, President, 2018
2018 Fishing Report
The February Kids-Only Ice Fishing Derby was the first event of the 2018 fishing season at the club. There was a great turnout of pre-sixteen-year-old anglers with many fish landed, released and awards presented. In preparation, DIFW hatchery staff had stocked Wiley Pond with 500 fall fingerlings and 200 12" to 13" yearling brookies which along with a few larger holdover trout provided fast action through the ice. The 2019 youth derby is scheduled for Saturday, February 16th
April 1st, 2018 was opening day of the open-water season, and a group of winter-worn members, rods in hand, were found casting to hungry brook trout. One successful angler reported landing three feisty brookies in less than a half hour spinning from the pier. Some lures never seem to lose their effectiveness. Small gold Super Dupers, Kastmasters, and Colorados have been producing for decades, as have effective spring streamers like Mickey Finns, Black Nose Dace, and the Gray Squirrel Tail. The Gray Squirrel Tail streamer is an older traditional fly for which tying material can be sourced locally in season or harvested year around by keeping an eye on the road and a sharp knife handy. Wiley Pond tends to fish well through mid-June, then weeds up, fouling hooks.
West Harbor Pond, Knickerbocker Lake, Adams Pond and smaller regional ponds have good populations of smallmouth and largemouth bass willing to hit hard and provide an acrobatic show right into fall. While trout have been caught in West Harbor Pond only on rare occasions, Adams Pond and Knickerbocker Lake are both stocked with brook trout seasonally. Knickerbocker also boasts huge rainbows and good sized browns.
In July, salt water angling heats up with the arrival of striped bass and hopefully bluefish. The 2018 striper fishing was more challenging in the Boothbay Region than in 2017, but some large bass were taken by both charter boats and individual anglers at the western beaches. The Sheepscot and Kennebec Rivers also provided action and larger fish into the early fall. Again, the bluefish failed to make an appearance in the region in spite of a heavy influx of pogies, which the blues usually follow. Tinker mackerel were plentiful for live bait early, but when the larger mackerel appeared, too large for the smaller stripers to gulp down, it was best to change to mackerel or pollock chunks, sea worms, or herring. While stripers will hit lures, plugs, and flies, live and cut bait seems to be most productive for the larger fish.
When cooler fall temperatures arrive, focus again shifts to fresh water and the brook trout reappear from the depths. Damsel and dragonflies hatch, as do midges, and can provide some exciting dry fly, nymph and streamer action until the end of the season but don't neglect those Super Dupers, Kastmasters, and Colorados that cast a mile and get down where the big ones lurk, and often work when nothing else seems to. –Steve Rubicam
Range Committee Report
Finally, in 2018, the new 50-yard pavilion was completed thanks to the efforts of Dennis, Ken, and a number of volunteer members. This is a great facility for shooters with rifles, pistols, or shotguns that bridges (literally and figuratively) the gap between the pistol range and the 100-yard range.
The brass plaques honoring those members and families who contributed $100 for the construction of the concrete shooting benches in both the 100-yard shoot house and the 50-yard pavilion were installed over the respective benches in October, completing the "Buy a Bench" project that started last year.
The mandatory Range Orientations, which started in January, 2018 have gone very well, and almost all current members who wish to use the firing ranges have taken the 30-minute, one-time orientation. New members will need to participate in an orientation as well before they can use the ranges. The club will try and hold a few orientations this winter, weather permitting.
Finally, please note that all club firing ranges are closed for the entire month of February so that youngsters may safely use the pond for ice fishing. --Barry Gibson
2018 Kids' Ice Fishing Derby A Success!
Our annual Kids' Ice Fishing Derby was held on Wily Pond on Saturday, February 17th, and the weather and the fish were more than cooperative. Approximately 50 enthusiastic kids and 40 adults -- a record number -- turned out for the event, along with a half-dozen happy and active dogs. Skies were clear, the sun was shining, and light winds with temperatures in the upper 20s made for pleasant fishing conditions on the ice.
Thirty brook trout were entered in the contest by the 2:00 pm deadline. First place, good for $100 cash, went to Spencer Wood for a 15" fish. Second place, for $50 cash, was won by Rachel Barter for her 14 3/4-inch trout, and Braden Davis finished third and received $25 cash for his 14 ½" fish. Eighteen other contestants entered fish in the contest, with honorable mentions going to Keegan Murray for a 13 7/8", Madelline Hassan, Colby Doucette, and Andrew Meader with fish all measuring 13 ¼", and Sophie White and Nason Heaberlin for a 13-inch trout each.
Fish & Game Club officers handed out 40 door prizes to contestants at the awards ceremony in the club house. Sam Markowitz, Nason Heaberlin, Arabella Hodgdon, Lilie Hassan, and Lucien Moreau all won rod and reel outfits donated by the club and Ames Supply. Peyton Barter, Chase Licursi, Anthony Barter, McKayla Pinkham, and Ben Hodgdon all won a gift certificate for a pizza, generously donated by Bobo of Hometown Convenience, and Ryan Clark was awarded an ice fishing trap, also courtesy of Ames Supply. Jared Spofford of Boothbay Bait generously donated bait that contestants could use in the derby, as well as a number of fishing tackle items for door prizes.
Kids and adults alike enjoyed free hot dogs grilled and steamed by Timber in the clubhouse kitchen, six pizzas generously donated by T&D Variety, as well as hot chocolate, coffee, fruit drinks and sodas.
The Kids' Ice Fishing Derby, which is free and open to all children under the age of 16, has become a popular winter event, with the 2019 Derby scheduled for February 16th and again headed up by club director Martin Page.
Fall Turkey Shoots
The 2018 Turkey Shoots were moderately successful, and everybody's favorite Shootmaster, Tom Davis, did another great job commandeering the various target events, with Keith filling in admirably on the Sunday that Tom was not available. Overall participation was a bit down again in 2018, and the club is going to spend some time discussing ways to boost attendance, such as pistol events, kids-only events, different types of targets, and the like. If anyone has ideas, please let us know. A number of folks pitched in to grill up burgers and dogs, including Timber & Michelle, Steve Rubicam, Chris Evola, Su Flaherty, Scott Profit, and Amy Shaw.
Financially, the club finished "in the black" with the shoots again this year, and our thanks go out to Tom, Keith, Ken, the Cook Shack crew, and all those who contributed their time and expertise. –Barry Gibson
JoAnna Shaw Receives 2018 Clayton Dodge Life Skills Award
The 2018 recipient of our Clayton Dodge Life Skills Award, a $400 honorarium given to a high-school senior or continuing education student, was JoAnna Shaw of Southport, the daughter of club members Robbie and Amy Shaw. Joanna, who was an Honors Student at Boothbay Regional High School, was enrolled as a freshman this fall at St. Joseph's College of Maine in Standish. She has a strong history of participation in high school activities and sports, spent a semester serving as an intern with the Maine Dept. of Marine Resources, and enjoys target shooting as well as mackerel and ice fishing. Along with her studies, JoAnna plans to play Division 3 field hockey at St. Joseph's. The club is proud to present the 2018 award to Joanna, and we wish her the very best in her academic and athletic pursuits in college. (Details and requirements for the award are on the club web site at www.brfga.com under "Scholarship Fund.)
SCROLL DOWN FOR RENEWAL APPLICATION
2019 NEW MEMBERSHIP/ RENEWAL APPLICATION
Single Membership Dues $50.00 Family Membership Dues $65.00
 Single Membership  Family Membership:  Are you an NRA Member?
NEW MEMBER ONE-TIME APPLICATION FEE: $25.00
LAPSED MEMBERSHIP REINSTATEMENT FEE (2 yrs. or more lapsed membership): $25.00
THIS APPLICATION IS FOR: NEW MEMBER ___ RENEWAL ___ REINSTATEMENT____
A family membership includes up to 2 heads of household & only dependent children under the age of 18.
You must provide names of dependent children on back of form along with DOB for each.
All persons age 18 or over (including children of members) must have their own memberships.
Name: ___________________________________ Tel. #: ___________________________
Mailing Address:_____________________________________________________________
_______________________________________________________________
E-mail Address (please print clearly)_________________________________________________
_
Number of cards needed ___ Name(s) on card________________________________________________
NOTE: The 2019 annual membership period runs from the Annual Club Meeting on January 16th, 2019 to the Annual Club Meeting on January 15, 2020.
LIABILITY RELEASE: As a member of the Boothbay Region Fish and Game Association, Inc., I agree to waive and release from liability and agree to hold harmless the following: The Boothbay Region Fish and Game Association, Inc. and its elected officers and representatives, for any and all damages of any kind or nature to my person and property arising out of or resulting from my direct or indirect participation in any and all Association activities or exercises of membership or privileges. I attest that I will not use the club firing ranges until I have successfully completed a formal Range Orientation Session. Furthermore, I understand that persons under the age of 18, including my dependent children/family members, are prohibited from using the firing ranges unless accompanied and closely supervised by a parent or other BRF&GA member in good standing over the age of 21 who has completed a Range Orientation. I agree to abide by all BRF&GA bylaws, rules and regulations (visit www.brfga.com). Finally, I state that I have read all of the above and have kept a copy for my own information.
SIGNATURE: _________________________________________ DATE____________________
NEW MEMBERS: Print out and bring to a meeting with check/cash for your annual dues & application fee (checks to be made out to Boothbay Region Fish & Game Association). RENEWALS: Print out and bring application and check/cash to a meeting; renew in person at Timber's Tire & Auto on Rte. 27 in Boothbay (he has paper applications available); or mail check and application to:
BOOTHBAY REGION FISH & GAME ASSOCIATION
P.O. BOX 408
BOOTHBAY, MAINE 04537-0408
Click Here for your renewal form.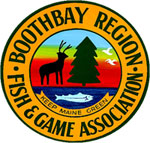 P.O. Box 408, 447 Dover Rd., Boothbay, ME
To email the club: info@boothbayregionfishandgame.com
© All rights reserved 2016 Boothbay Region Fish & Game Association
Web Design by KaSondera at: www.completewebpagedesign.com