BRFGA Club Notes
Goings On
RANGE ORIENTATION
The next Boothbay Region Fish & Game Association Range Orientation will be held at 12:00 noon this coming Sunday, Oct. 29th, during the Turkey Shoot at the club ranges on Dover Rd. in Boothbay. Unlike last week, there will only be one orientation conducted (at noon) for the day. The orientation will last approx. 15 - 20 minutes. After January 17th, 2018, only those members who have completed an orientation will be permitted to use the club firing ranges.
Additional orientations will be scheduled in the future.
Thank you for your cooperation.
Boothbay Region Fish & Game Association, Inc.
*************
BRFG TARGET STAND
This stand is portable and similar to the wooden stands the club often uses. The height can be increased to match your preferred shooting distance, range, and best berm impact. The base can be made from plywood or other available wood and comes apart for flat transportation. Works best with a cardboard backer.
**************
A ONE-TIME RANGE ORIENTATION IS NOW REQUIRED FOR ALL BRF&GA
MEMBERS WHO INTEND TO USE THE CLUB FIRING RANGES
The Boothbay Region Fish & Game Association has made the decision to require all members who intend to use the ranges, both new members and existing members, go through a short, one-time Range Use & Safety Orientation.
New Members will need to take the orientation before they will be issued badges and ID cards. Existing members will need to take the orientation before, or when, they renew for 2018 in order to use the ranges.
Renewals for 2018 can be made anytime from now (Oct. 19th) into 2018. The first Range Orientations will take place this coming Sunday, October 22nd, at the Turkey Shoot on Club property, from 9 am until 1:30 pm. Keith Royal will conduct the first orientations, which are expected to take approximately 15 minutes. Members will be asked to sign a copy of our Range Rules to indicate they have completed the orientation and understand the rules.
More orientations, conducted by Keith or other club officers, will be held in the future.
Members who do not plan to use the ranges at all do not have to participate in the orientation. However, these members will be prohibited from using the ranges at any time and will be removed from the club if they do.
The whole idea of the orientations is to be sure every member using the ranges understands how the ranges operate, what is required for safe shooting, and the range rules. Successfully completing the orientation and signing the Rules Sheet will indicate to the club that the member understands the rules and protocols of our firing ranges.
We thank everyone for their cooperation.
The Officers & Directors
Boothbay Region Fish & Game Association, Inc.
Club Raffle Coming Soon
The club will be raffling off a Hawken CVA 50cal rifle and accessories as pictured below. The black powder rifle is 30 years old, has never been fired, is in mint condition with an estimated value of $550.00. Raffle date and info to be announced soon.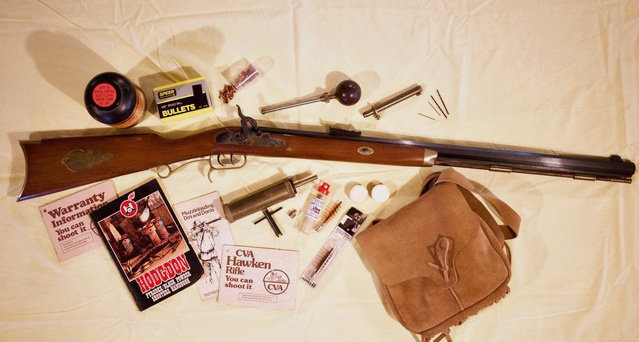 Special Award!
Today during the Veteran's Shoot at the BRFGA a special presentation was made to Capt. Barry Gibson by Pres. Dennis Blackman and VP. Ken Anderson. The presentation of a personal practice shooting bench in his favorite hue of Exotic Bloom Pink was given in recognition of Barry's marksmanship being severely challenged my a muscle memory/trigger related issue resulting from many, many years of casting. Ken's quote: He has the eyes and tactile sensitivity of a dead codfish! The officers, on behalf of all the BRFGA club members, wish Barry a successful resolution to this nagging problem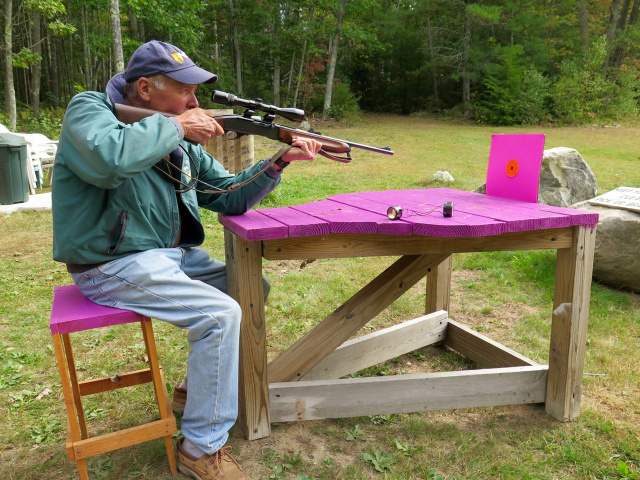 VETERANS SHOOT
American Legion Article
17 September 2017
By David Patch, American Legion Post 36 Commander
Boothbay Region Fish and Game Association (BRF&GA) and the American Legion Post 36 once again held a Veteran Shoot at the BRF&GA range on a beautiful Sept 30th day. Most everyone brought their own weapons, a variety of hand guns and rifles, and the participants were gracious enough to let others try theirs. Two couples came from as far away as Gorham! Both were marines with lots of experience and, rumor has it, one of the marine's wife out scored her husband on the 100 yd range! It was fun to also see veterans teaching their young sons how to shoot different types of rifles and pistols, learning (and following) all range safety rules. The BBQ was excellent with BRF&GA folks flipping hamburgers to perfection and hot dogs with all the trimmings; and the American Legion Post 36 Auxiliary providing potato and macaroni salads that were out of this world. Various conflicting events prevented several expected guests including sailors on the ships at BIW and the USCG; but, of course, they will be invited back next year. Both the BRF&GA and Post 36 are already looking forward to next year!
RANGES NOW OPEN!
The firing ranges at the Boothbay Region Fish & Game Association on Dover Rd. in Boothbay are now open. The Berms are upgraded, new benches are in and solid. Enjoy your target practice, be safe, and clean up your targets and brass when finished. A big thanks to the volunteers who spent many hours on these projects for your club.
The Officers & Directors
Boothbay Region Fish & Game Association
******
2017 Fish & Game Assoc. Saltwater Tourney Results
by Barry Gibson
The 13th Annual Boothbay Region Fish & Game Association Saltwater Fishing Tournament was held this past Saturday and Sunday, August 12th and 13th, and the nice weather drew a small crowd of enthusiastic entrants.The fishing for mackerel was very good, and three pollock and one legal-size striper were entered.
The winning striper in the Adult Division was a 31-incher caught by Ron Campbell, who received a check for $200. There was no second- or third-place striper entrant, and no bluefish were entered again this year.
The Junior Mackerel Division was hotly contested, with several dozen fish entered. When the dust settled, Andrew Meader had the largest, a whopping 13 1/4-incher, good for $50. Danny Gray came in second with a 12 7/8-incher and took home $25. Joe Gray came in third, and Jack Kaler and Tommy Gray took fourth and fifth respectively, all good for $10 cash prizes.
The Junior Pollock Division was won by Jake Kelley, who took home $50 cash for a 12-incher. Andrew Meader came in second with a 10 3/8-inch fish good for $25, and Jack Kaler took the third-place pollock, which earned him $10.
Area businesses responded generously to the tournament, including $50 from The First, $50 from Robinson's Wharf, $50 from the Carl Larabee Insurance Agency, $50 from The First, $25 from the Harold Bishop Insurance Agency, $50 from Bath Savings, and $25 from Joan Brown of Brown's Wharf Inn, all of which went towards the cash prizes. Grover's Hardware donated a nice rod and reel outfit, F&G club member Su Flaherty donated two rod and reel outfits and a fishing creel, and Steve Rubicam donated two rod and reel combos, all of which were awarded as door prizes in the Youth Division. And finally, the Junior Grand Door Prize of a brand-new bicycle donated Rubicam Photography and Shark Six Charters went to Everett Kaler.
Tournament organizer would like to extend their sincere appreciation to Tom Philbrick of the Boothbay Lobster Wharf for hosting the weigh-ins on both Saturday and Sunday, to Oak Street Provisions for handling the registrations, and to Grover's Hardware and the YMCA's Camp Knickerbocker for displaying the Junior Grand Prize bicycle in the days leading up to the tournament.
Proceeds from the popular event benefit the Fish & Game Association's Clayton Dodge Scholarship Fund as well as many other Association programs.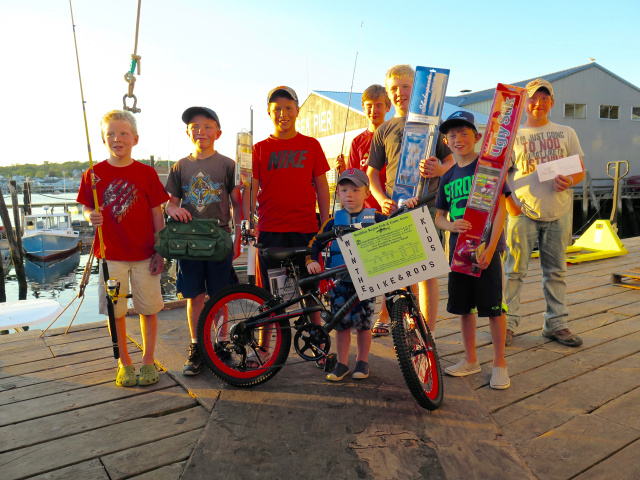 ***********
Thanks to Keith!
Another big thank-you goes out to Keith Royal for all his efforts in keeping our driveway and parking areas plowed out for meetings and for access to the ranges and buildings. And many thanks to Dennis and Ken for snowblowing the bridge and path. Great job everyone!
**********
BRF&GA Kids' Ice Fishing Derby A Success!
The Boothbay Region Fish & Game Association's Annual Kids' Ice Fishing Derby was held on Wily Pond on Saturday, February 18th, and the weather and the fish were more than cooperative.
Approximately 20 kids and as many adults turned out for the event. Sunny skies, light winds, and temperatures in the low 40s made for pleasant conditions despite some slush that formed on top of the ice as the morning progressed.
Fifteen brook trout were entered in the contest by the 2:00 pm deadline. First place, good for $50 cash, went to Jake Kelley for a 14 ¾" fish. Second place, for $25 cash, went to Andrew Meader for his 14 ½-incher, and Dylan Plummer finished third and received $10 cash for his 14-inch trout. Other contestants who entered fish included Robert Shaw, Keegan Murray, Isaac Lewis, Henry Currier, Makayla Pinkham, Hunter Ryan, Laura & CJ Dean, and Emery Lorrain.
Fish & Game Club members handed out a number of nice door prizes, including rod and reel outfits, ice traps, and tackle boxes at the awards ceremony in the clubhouse.
Kids and adults alike enjoyed the hot dogs grilled and steamed by Timber Brown in the clubhouse kitchen, sandwiches provided by Amy Shaw, hot chocolate, coffee and sodas, and a variety of cookies, chips, and other treats.
The Club would like to extend special thanks to those who volunteered their time and talents to ensure the success of the event, including Timber Brown and Michelle Bryer, John Splaine, Keith Royal, Ken Anderson, Dennis Blackman, and Susan Flaherty. The Kids' Ice Fishing Derby, which is free and open to all children under the age of 16, has become a popular winter event and the club is planning on holding it again next February.
Annual Meeting
Th
e Boothbay Region Fish and Game Association held its Annual Meeting on Wednesday Jan 18th. Elections were held for 2017 officers and the membership voted to re-elect the 2016 slate. The banquit dinner received raves and all association business was attended to.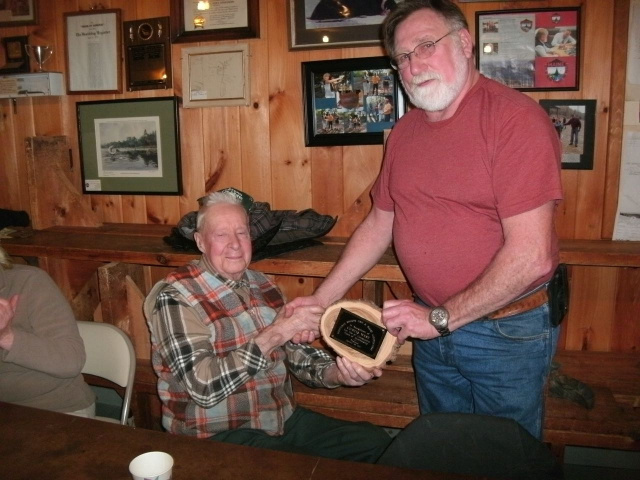 President Dennis Blackman, right, presents Curt West of Boothbay a special plaque commemorating Curt's 67th year as a member of the club. Curt joined in June of 1949 and has been a faithful member ever since.
The Hatchery crew stockd 600 fall fingerling brook trout in Wiley Pond 10/26/16.
Some were quite small but should grow appx 2+" over the winter to between 8" and 10.5"
Contruction of the new 25 yd pistol range and shooting stations has been completed. It well bermed and is getting quite a bit of use. Remember to raise the red safety flag at the entrance to the club before proceeding to the range. Thanks to the volunteers for their time and to the folks who contributed funds needed to complete the project. Check the shooting range photos page for pics of the construction.
BRF&GA Kids' Ice Fishing Derby A Success!
The Boothbay Region Fish & Game Association's Annual Kids' Ice Fishing Derby held at Wiley Pond on Saturday, February 20th,started out rainy but the enthusiasm couldn't be dampened. Approximately 25 kids and 15 adults braved the early morningprecipitation and watery, slippery ice to drill holes and set up traps. The first brook trout was entered at 8:28 by Andrew Meader. From then on a "steady pick" ensued, with three or four fish an hour brought to the clubhouse to be measured, with the last one entered at 1:57 pm, just shy of the 2:00 deadline. Weather conditions improved as the morning progressed, and by the end of the event skies were clear and the sun was out. Eighteen trout were entered in the derby. First place went to Miqueias Biasuz for a 12.5" fish, good for the top cash prize of $50. Second place went to Emery Lorraine for a 12.25" trout that garnered a $25 prize, and Emery also took third place with an 11.75-incher, good for $10. Lydia Currier came in fourth with an 11 3/8" brookie and also won $10, and Andrew Meader rounded out the pack in fifth place with his 11.25" trout, and took home $10. Other contestants who entered trout included Stewart Salom, Robert Shaw, Chase Licursi, Anthony Barter, Henry Currier, Nick Morley, and Sorcha Salom
.
Fish & Game Club members also handed out a dozen door prizes to the young contestants, which included ice trap outfits, a rod and reel, tackle box, lures, and a $25 Cabelas gift card donated by member Tabor Young. Board member Tammy Steinmetz and VP Ken Anderson were in charge of the food, which included hot dogs and a venison stew donated by Andy Davis, chicken noodle soup, minestrone soup, muffins, brownies, chips, popcorn, and hot chocolate. President Dennis Blackman kept the wood stove stoked in the club house and measured many of the fish entered, and other club volunteers including Rusty Court helped keep things moving along. The Kid's Ice Fishing Derby has become a popular event and the club is looking foreward to sponsoring another next February.
TARGET PLACEMENT
Do NOT place targets on the upright posts with the post in the center of the target. Your shots will destroy the posts and create a mess on the range requiring unnecessary maintenance. Always fasten the targets between the posts using a backer board if necessary.
WRONG WAY CORRECT PLACEMENT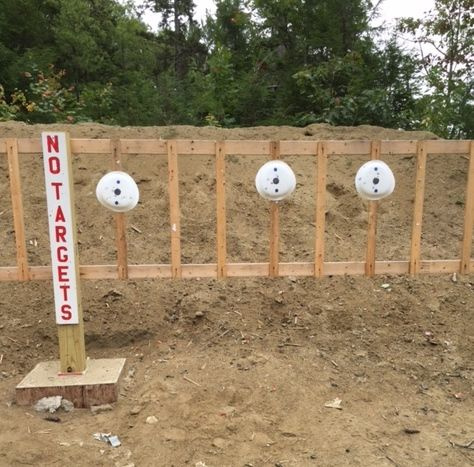 Refreshing the Clayton Dodge memorial at the club with Hosta at spring work day.
Hot Range Flag.
The "hot range" flag pole has been installed at the gate and red flag ordered. After the flag has arrived, members entering the club driveway to shoot should raise the flag to let others know the range is hot and the last to leave should take it down and store it in the box at the bottom of the pole.
Range safety is primary, please do your part. Thanks.
When fishing Wiley Pond from a watercraft life jackets are required by law. Children under 12 should wer them on the fish pier. There is a 2 trout limit and only artificial lures and flies may be used.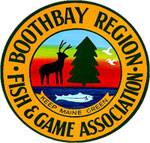 P.O. Box 408, 447 Dover Rd., Boothbay, ME
To email the club: info@boothbayregionfishandgame.com
© All rights reserved 2016 Boothbay Region Fish & Game Association
Web Design by KaSondera at: www.completewebpagedesign.com