BRFGA Club Notes
Goings On
2018 FALL TURKEY SHOOTS
The Fall Turkey Shoots will start Sunday September 30th and continue through the 1st Sunday in November. 10am-2pm. The shoots are open to the public. See the Club Calendar for details.
Boothbay Region Fish & Game Assoc., Inc.
*************
RANGE ORIENTATION
As a reminder, all BRF&GA members who intend to use the club firing ranges must complete a one-time Range Orientation before they are allowed to shoot at the club.
The Officers & Directors
Boothbay Region Fish & Game Association, Inc.
********
It came to the attention of the club at the last meeting that there has been some shooting going on before 8:00 a.m. at the club ranges.
ALL CLUB FIRING RANGES are closed between sunset and 8:00 a.m. (except in April when different times apply). This needs to be strictly adhered to out of consideration for our club property neighbors. This sunset to 8:00 a.m. closure has been made clear at the Range Orientations. Violations will result in termination of membership. As a further reminder, ALL members must participate in a 30-minute Range Orientation before being allowed to use the club ranges. If you haven't done one, let us know and we will try and accommodate you.
HANDICAP PARKING: The club now has a designated handicap parking area (with signs) next to the footbridge. Please be advised that wheelchair-accessible vans (which are usually marked as such) need at least six feet of clear space on either side of the vehicle so the individual can get in and out. Thanks for your cooperation on this.
The Officers & Directors
Boothbay Region Fish & Game Association
*************
NEW GATE LOCK
We are trying out a new style of combination padlock on the club gate. The advantage is that the numbers are much easier to see and operate than on the brass padlocks.
The four-number combination needs to be set at the BOTTOM of the lock, where there are two small, square cast "nubs" on either side of the number.
The bail does not have to be pushed in before you pull it out. It should come right out straight when you set the correct opening combination.
To re-lock the lock, the CORRECT COMBINATION needs to be in place, or else the bail will not fully go back into the lock body.
Once the bail is fully re-inserted into the lock body, simply rotate one or more of the plastic thumb-wheels and the lock is re-set for the next person.
Boothbay Region Fish & Game Assoc.
FLEA MARKET
At the last meeting, club members voted to again hold a Fall Flea Market, this year on Saturday, October 6th (during the Fall Foliage Festival on Columbus Day Weekend) in front of Timber's Tire and Auto next to the Railway Museum.
Members who have fishing, hunting, camping, or shooting items, as well as regular flea market items, that they wish to donate should put them aside. We hope to have information on a drop-off location shortly. Please no TVs, large appliances, etc. This is a good fund-raiser for the club.
The Officers and Directors
Boothbay Region Fish & Game Association
***********
Fish & Game Assoc. Kids' Ice Fishing Derby A Big Success!
Pix posted on BRFGA Facebook page.
The Boothbay Region Fish & Game Association's annual Kids' Ice Fishing Derby was held on Wily Pond on Saturday, February 17th, and the weather and the fish were more than cooperative.
Approximately 50 kids and 40 adults -- a record number -- turned out for the event, along with a half-dozen happy and active dogs. Skies were clear, the sun was shining, and light winds with temperatures in the upper 20s made for pleasant fishing conditions on the ice.
Thirty brook trout were entered in the contest by the 2:00 pm deadline. First place, good for $100 cash, went to Spencer Wood for a 15" fish. Second place, for $50 cash, was won by Rachel Barter for her 14 3/4-inch trout, and Braden Davis finished third and received $25 cash for his 14 ½"-inch fish. Eighteen other contestants entered fish in the contest, with honorable mentions going to Keegan Murray for a 13 7/8", Madelline Hassan, Colby Doucette, and Andrew Meader with fish all measuring 13 ¼", and Sophie White and Nason Heaberlin for a 13-inch trout each.
Fish & Game Club officers handed out 40 door prizes to contestants at the awards ceremony in the club house. Sam Markowitz, Nason Heaberlin, Arabella Hodgdon, Lilie Hassan, and Lucien Moreau all won rod and reel outfits donated by the club and Ames Supply. Peyton Barter, Chase Licursi, Anthony Barter, McKayla Pinkham, and Ben Hodgdon all won a gift certificate for a pizza, generously donated by Bobo of Hometown Convenience, and Ryan Clark was awarded an ice fishing trap, also courtesy of Ames Supply.
Jared Spofford of Boothbay Bait generously donated bait that contestants could use in the derby, as well as a number of fishing tackle items for door prizes. Winners of tackle that ranged from ice skimmers to bait nets to depth indicators and tackle boxes included Miles Murray, Keggan Murray, Ethan Clark, Nason Heaberlin, Colby Doucette, Nicholas Heaberlin, Emery Lorrain, Dean Brewer, Kay Knapp, Emma Doucette, Rafe Hebert, Jake Kelley, Henry Currier, Andrew Meader, Abbie Clark, Avery Barter, Spencer Wood, Will Sledge, Samantha Doucette, Braden Davis, Rachel Barter, Sorcha Salam, Sophie White, Lydia Currier, Madelline Hassan, Lesslie White, Mason Michaud, Gabe Biasuz, and Sam Markowitz.
Kids and adults alike enjoyed free hot dogs grilled and steamed by Timber Brown in the clubhouse kitchen, six pizzas generously donated by T&D Variety, as well as hot chocolate, coffee, fruit drinks and sodas.
The Fish & Game Club would like to extend special thanks to those who contributed to the event including Boothbay Bait, T&D Variety, Ames Supply, Hometown Convenience, Martin Page, Dennis Blackman, and Timber Brown for increasing the cash prizes this year, and Paul Perry for donating food. Thanks also go out to Michelle Breyer as the club's official fish-measurer, as well as to many other members who volunteered their time and talents to ensure the success of the derby.
The Kids' Ice Fishing Derby, which is free and open to all children under the age of 16, has become a popular winter event and the club is planning to hold it again next February.
************
BRFG TARGET STAND
This stand is portable and similar to the wooden stands the club often uses. The height can be increased to match your preferred shooting distance, range, and best berm impact. The base can be made from plywood or other available wood and comes apart for flat transportation. Works best with a cardboard backer.
**************
A ONE-TIME RANGE ORIENTATION IS NOW REQUIRED FOR ALL BRF&GA
MEMBERS WHO INTEND TO USE THE CLUB FIRING RANGES
The Boothbay Region Fish & Game Association has made the decision to require all members who intend to use the ranges, both new members and existing members, go through a short, one-time Range Use & Safety Orientation.
New Members will need to take the orientation before they will be issued badges and ID cards. Existing members will need to take the orientation before, or when, they renew for 2018 in order to use the ranges.
Renewals for 2018 can be made anytime from now (Oct. 19th) into 2018. The first Range Orientations will take place this coming Sunday, October 22nd, at the Turkey Shoot on Club property, from 9 am until 1:30 pm. Keith Royal will conduct the first orientations, which are expected to take approximately 15 minutes. Members will be asked to sign a copy of our Range Rules to indicate they have completed the orientation and understand the rules.
More orientations, conducted by Keith or other club officers, will be held in the future.
Members who do not plan to use the ranges at all do not have to participate in the orientation. However, these members will be prohibited from using the ranges at any time and will be removed from the club if they do.
The whole idea of the orientations is to be sure every member using the ranges understands how the ranges operate, what is required for safe shooting, and the range rules. Successfully completing the orientation and signing the Rules Sheet will indicate to the club that the member understands the rules and protocols of our firing ranges.
We thank everyone for their cooperation.
The Officers & Directors
Boothbay Region Fish & Game Association, Inc.
2017 Fish & Game Assoc. Saltwater Tourney Results
by Barry Gibson
The 13th Annual Boothbay Region Fish & Game Association Saltwater Fishing Tournament was held this past Saturday and Sunday, August 12th and 13th, and the nice weather drew a small crowd of enthusiastic entrants.The fishing for mackerel was very good, and three pollock and one legal-size striper were entered.
The winning striper in the Adult Division was a 31-incher caught by Ron Campbell, who received a check for $200. There was no second- or third-place striper entrant, and no bluefish were entered again this year.
The Junior Mackerel Division was hotly contested, with several dozen fish entered. When the dust settled, Andrew Meader had the largest, a whopping 13 1/4-incher, good for $50. Danny Gray came in second with a 12 7/8-incher and took home $25. Joe Gray came in third, and Jack Kaler and Tommy Gray took fourth and fifth respectively, all good for $10 cash prizes.
The Junior Pollock Division was won by Jake Kelley, who took home $50 cash for a 12-incher. Andrew Meader came in second with a 10 3/8-inch fish good for $25, and Jack Kaler took the third-place pollock, which earned him $10.
Area businesses responded generously to the tournament, including $50 from The First, $50 from Robinson's Wharf, $50 from the Carl Larabee Insurance Agency, $50 from The First, $25 from the Harold Bishop Insurance Agency, $50 from Bath Savings, and $25 from Joan Brown of Brown's Wharf Inn, all of which went towards the cash prizes. Grover's Hardware donated a nice rod and reel outfit, F&G club member Su Flaherty donated two rod and reel outfits and a fishing creel, and Steve Rubicam donated two rod and reel combos, all of which were awarded as door prizes in the Youth Division. And finally, the Junior Grand Door Prize of a brand-new bicycle donated Rubicam Photography and Shark Six Charters went to Everett Kaler.
Tournament organizer would like to extend their sincere appreciation to Tom Philbrick of the Boothbay Lobster Wharf for hosting the weigh-ins on both Saturday and Sunday, to Oak Street Provisions for handling the registrations, and to Grover's Hardware and the YMCA's Camp Knickerbocker for displaying the Junior Grand Prize bicycle in the days leading up to the tournament.
Proceeds from the popular event benefit the Fish & Game Association's Clayton Dodge Scholarship Fund as well as many other Association programs.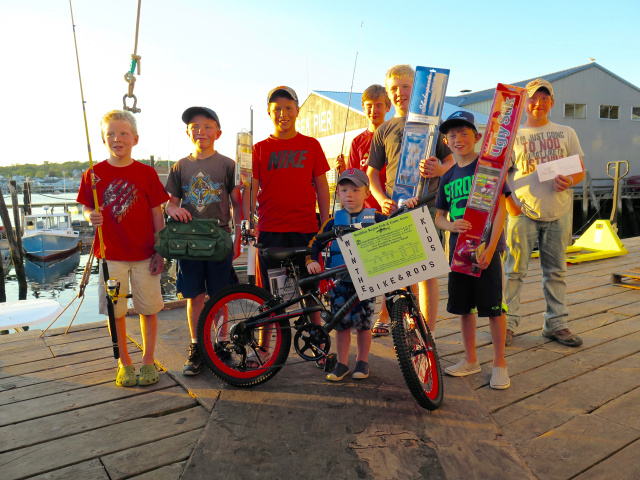 ***********
Thanks to Keith!
Another big thank-you goes out to Keith Royal for all his efforts in keeping our driveway and parking areas plowed out for meetings and for access to the ranges and buildings. And many thanks to Dennis and Ken for snowblowing the bridge and path. Great job everyone!
**********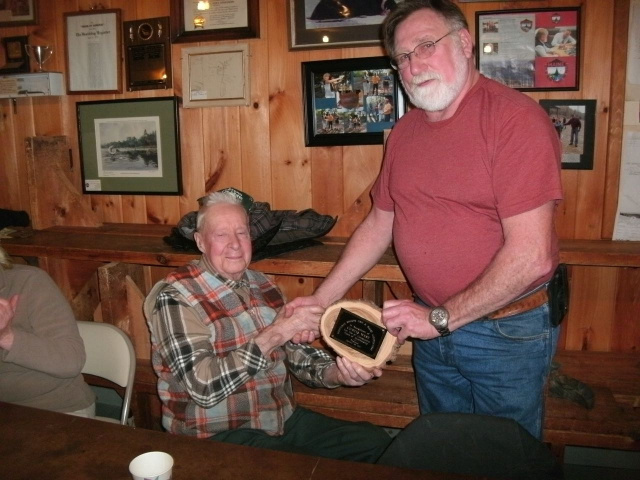 President Dennis Blackman, right, presents Curt West of Boothbay a special plaque commemorating Curt's 67th year as a member of the club. Curt joined in June of 1949 and has been a faithful member ever since.
************
Contruction of the new 25 yd pistol range and shooting stations has been completed. It well bermed and is getting quite a bit of use. Remember to raise the red safety flag at the entrance to the club before proceeding to the range. Thanks to the volunteers for their time and to the folks who contributed funds needed to complete the project. Check the shooting range photos page for pics of the construction.
Do NOT place targets on the upright posts with the post in the center of the target. Your shots will destroy the posts and create a mess on the range requiring unnecessary maintenance. Always fasten the targets between the posts using a backer board if necessary.
WRONG WAY CORRECT PLACEMENT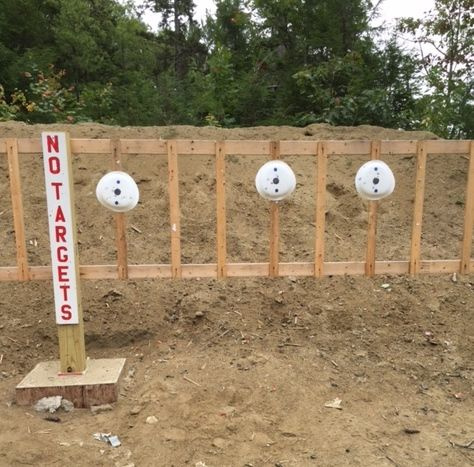 Refreshing the Clayton Dodge memorial at the club with Hosta at spring work day.
Hot Range Flag.
The "hot range" flag pole has been installed at the gate and red flag ordered. After the flag has arrived, members entering the club driveway to shoot should raise the flag to let others know the range is hot and the last to leave should take it down and store it in the box at the bottom of the pole.
Range safety is primary, please do your part. Thanks.
When fishing Wiley Pond from a watercraft life jackets are required by law. Children under 12 should wer them on the fish pier. There is a 2 trout limit and only artificial lures and flies may be used.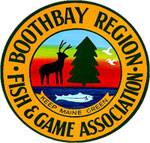 P.O. Box 408, 447 Dover Rd., Boothbay, ME
To email the club: info@boothbayregionfishandgame.com
© All rights reserved 2016 Boothbay Region Fish & Game Association
Web Design by KaSondera at: www.completewebpagedesign.com