Throughout its' history, the Boothbay Region Fish and Game Association has always endeavored to promote the traditional outdoor sports with both words and deeds. We have championed conservation, safe hunting and ethical hunting and fishing attitudes. To achieve our goals the Association has invested its' collective wealth in permanent durable facilities such as the range and grounds on Dover Road in Boothbay.
Many, many years ago the Association took on perhaps its' largest project - creating Wiley Pond. Wiley Pond for all these years has been the only body of water in the Boothbay Region consistently stocked with trout by the State on an annual basis. The pond is a public body of water open to all, and generations of fishermen have since enjoyed the quiet solitude of Wiley.
The upkeep of the dam that made all this possible is the sole responsibility of the Association. An inspection of the dam revealed that repairs were necessary and the need was immediate. When the ground finally dried sufficiently to get equipment to the site, N.A. Reny, Inc. was able to reinforce and repair the dam and the pond has filled to it's normal level.
This past year has seen a gratifying outpouring of donations to the Association, most notably in memory of long time member Fred Blake. Coupled with generous donations from club members, local businesses, and interested individuals we raised sufficient funds to completely cover the expense. The officers and members are grateful for your generosity in allowing us to bring this project to completion and consequently continue the stocking of brook trout in the pond. Thank you very much & enjoy the fishing!
Current Projects
We would appreciate both donations and volunteer labor to help with current projects. Schedules and financial updates will be discused at the monthly meetings on 3rd Wednesday of each month.
We are currently researching the possibility of Rainbow Trout stocking in addition to the annual Brook Trout stocking.
You can help by sending your contributions to :
Boothbay Region Fish & Game Association
P.O.Box 408
Boothbay. ME 04537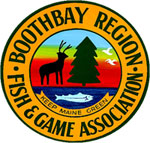 P.O. Box 408, 447 Dover Rd., Boothbay, ME
To email the club: info@boothbayregionfishandgame.com
© All rights reserved 2016 Boothbay Region Fish & Game Association
Web Design by KaSondera at: www.completewebpagedesign.com