Boothbay Region Fish & Game Assoc.
2023 Membership Renewal & Newsletter
Meetings are on the 3rd Wednesday of every month at 7:30 pm at the club house. The Annual Meeting and election of officers will be Jan. 18 at 7:30 pm at the club house. Remember, the gate combination changes on Jan. 18th. Bring your renewal to the meeting and get instant gratification of a new badge and lock combination card! Web site: www.brfga.com
President's Message
2022 almost resembled a normal year for our club, as the Covid restrictions were lifted and regular life tilted towards what it had been. The Annual Meeting was held in January, and Officer and Director elections were held according to our by-laws.
Carl Schmidt, Barry Gibson and Keith Royal were once again reelected to the positions of Vice President, Secretary, and Treasurer respectively. Dennis Blackman was voted in to the position of Director at Large. The rest of the Directors at Large were reelected or still had tenure for the year -- Jack Pawlowski, Russell Jones and Carl Jordan. Thank you to all the above individuals for volunteering their time and effort for the benefit of the club!
Disappointments for 2022 included the cancellation of the Kids' Ice Fishing Derby for the second year in a row. It was determined at the annual meeting by the membership that we could not safely conduct the event due to lingering concerns. The long-held Turkey Shoots were also cancelled due to the fact that the club could not secure a reliable group of weekly club volunteers to conduct the events, and that participation in the shoots seemed to be at an all-time low. We will try and re-think the Turkey Shoots for 2023.
The high notes! Dennis Blackman located a new refrigerator (cheap!) for the club house at Louis Doe Hardware in Damariscotta. One of our unnamed club members constructed a bunch of target frames for the ranges. We updated the electrical service at the cook shack, and subsequently wired in power and light to the 50- and 100-yard ranges. Thank you to Butch, Jack, Chris and the electrician who shall not be named. Along with that, these volunteers spruced up the ranges in general. Above and beyond!
We lost our oldest living continuous lifetime member, Kurt West, a member of this country's Greatest Generation. A World War II hero and a philanthropist for the Boothbay community, he passed at 99 years of age in October of 2021. Prior to the June, 2022 meeting, a plaque was secured to the 50 yard pavilion which has been dedicated in his honor.
All the rest of the accolade are anonymous, you know who you are and what you do to keep this club up and running, always coming through when it really counts. –John Splaine, President, 2022
Range Committee Report
This year the range saw many improvements with new frames for the 50 and 100 yd ranges, newly refinished bench tops, and lighting for both ranges. Many thanks to Jack and Butch for spearheading these projects!
We still need to make improvements to the pistol range, however, and are always looking for volunteers to assist with general range upkeep.
The Thursday night rimfire bench-rest shoots continued this year with great enthusiasm, and a few new shooters were introduced to them.
As mentioned, however, the Turkey Shoots needed to be cancelled due to lack of interest in both attendance and by volunteers. Some ideas have been discussed in order to continue them in the future in some capacity, but nothing has been finalized to date. Your opinions and help on this is welcomed.
Please remember that all firing ranges will be CLOSED for the entire month of February for kids ice fishing. –Keith Royal
*********MAINE STATE FISHING REGULATIONS REMINDER********
Wiley Pond is closed to all fishing (ice & open water) during the months of January and March. It is open for ice fishing in February but only to children under the age of 16, with no live baitfish allowed and a limit of two lines per child. The regular open-water season is normally scheduled to resume on April 1st.
2022 Clayton Dodge Life Skills Award
Ben Rumney, son of club Membership Secretary Dave Rumney, was awarded the 2022 Clayton Dodge Life Skills Award. Ben, who won the award in 2020 as well, has transferred to Embry Riddle Aeronautical University. Congratulations Ben!
If any member in good standing has a child or grandchild heading to college, a trade school, or an occupation after high school, let us know and we'll get you an application. We award $500, payable after the student's first successful semester, or six months into a chosen vocation. Details and requirements for the award are on the club web site at www.brfga.comunder "Scholarship Fund."
SCROLL DOWN FOR RENEWAL APPLICATION AND INSTRUCTIONS
FOR RENEWING YOUR MEMBERSHIP
DOWNLOAD AND PRINT APPLICATION (CLICK)
BOOTHBAY REGION FISH & GAME ASSOCIATION
NEW MEMBERSHIP/ RENEWAL APPLICATION
Single Membership Dues $65.00 Family Membership Dues $85.00
Single Membership _____ Family Membership: _____
NEW MEMBER ONE-TIME APPLICATION FEE: $25.00
LAPSED MEMBERSHIP REINSTATEMENT FEE (2 yrs. or more lapsed membership): $25.00
THIS APPLICATION IS FOR: NEW MEMBER _____ RENEWAL _____ REINSTATEMENT______LIFETIME ­­­_____
A family membership includes up to 2 heads of household & only dependent children under the age of 18. You must provide names of dependent children on back of form along with DOB for each. All persons age 18 or over (including children of members) must have their own memberships.
Name: ___________________________________________ Tel. #: _________________________________________
Mailing Address:__________________________________________________________________________________
E-mail Address (please PRINT clearly)_________________________________________________________________
Number of cards needed ___ Name(s) on card__________________________________________________________
NOTE: The annual membership period runs from the Annual Club Meeting in January of the current year to the Annual Club Meeting in January of the next year.
LIABILITY RELEASE:As a member of the Boothbay Region Fish and Game Association, Inc., I agree to waive and release from liability and agree to hold harmless the following: The Boothbay Region Fish and Game Association, Inc., its elected officers and representatives, for any and all damages of any kind or nature to my person and property arising out of or resulting from my direct or indirect participation in any and all Association activities or exercises of membership or privileges. I attest that I will not use the club firing ranges until I have successfully completed a formal Range Orientation Session. Furthermore, I understand that persons under the age of 18, including my dependent children/family members, are prohibited from using the firing ranges unless accompanied and closely supervised by a parent or other BRF&GA member in good standing over the age of 21 who has completed a Range Orientation. I agree to abide by all BRF&GA bylaws, rules and regulations (visit www.brfga.com). Finally, I state that I have read all of the above and have kept a copy for my own information.
SIGNATURE: ____________________________________________________________ DATE____________________
NEW MEMBERS: Print out and bring to a meeting with check/cash for your annual dues & application fee (checks to be made out to BRF&GA). Meeting are held on the 3rd Wednesdays of each month.
RENEWALS: Print out and bring application and check/cash to a meeting, renew in person at TDR Auto Supply at 14 Oak St. BBH. Or, mail check and application to:
BRF&GA P.O. BOX 408 BOOTHBAY, MAINE 04537-0408
_ _ _ _ _ _ _ _ _ _ _ _ _ _ _ _ _ _ _ _ _ _ _ _ _ _ _ _ _ _ _ _ _ _ _ _ _ _ _ _ _ _ _ _ _ _ _ _ _ _ _ _ _ _ _ _ _ _ _ _ _ _ _ _ _ _
For Office Use Only: S/O date and given by: Pin/card(s) given: Y / N
Membership year(s): Donation Committees:
---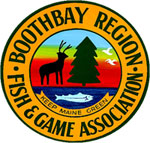 P.O. Box 408, 447 Dover Rd., Boothbay, ME
To email the club: info@boothbayregionfishandgame.com
© All rights reserved 2016 - 2020 Boothbay Region Fish & Game Association
Web Design by KaSondera at: www.completewebpagedesign.com