Boothbay Region Fish & Game Assoc.
2021 Membership Renewal & Newsletter
Regular club meetings have been canceled until further notice, although the Board of Directors plan to continue to meet each month to conduct basic club business. The gate combination changes on Jan 20th. Renewal information can be found at the bottom of the application (included below).
For updates check the club web site: www.brfga.com
President's Message
2020 was a challenging year for the club, but we got through it. Things started out fine in January, and our Kids' Ice Fishing Derby in February was another success (see below). However, we had to cancel club meetings in March, April and May due to the Covid-19 restrictions, but we were able to resume meetings outside from June through October, and then decided to hold Board of Directors meetings in place of general meetings in November and December so that basic club business could continue to be conducted. Fortunately we were able to keep the club grounds, ranges, and casting pier open all year, with appropriate social distancing requirements.
2020 projects included an investigation into how the club might obtains a 501(c)(3) designation for tax and non-profit donation purposes, which is still ongoing. We added $100 to the Clayton Dodge Life Skills Award to bring it to $500 annually, donated $250 to the Lincoln County Fish & Game Club to help rebuild their club house that was damaged by arson, and again donated $300 to the Boothbay Region Food Pantry. Al Barter cut and split numerous logs left over from the driveway clearing, and Jonathan Tuell brought the firewood to the club house so we now have plenty of it for the stove. The 50-yard and 100-yard berms were repaired by several members (see below) and Martin donated a new sign over the club house door.
We welcomed 19 new members and families this past year, as well as the entire Boothbay Harbor Police Dept. Dave Rumney took over membership duties from Ken in November, and has worked to streamline the renewal and new member application process.
I would like to close by thanking all those who volunteered their time and talents in 2020. Special thanks to Keith Royal for the snow plowing, Steve Rubicam for handling our web site, everyone who pitched in at the Turkey Shoots, Ken Anderson for the range mowing and tons more that he's done for our club, Jimmy Jones for repairing our driveway, and to our Board of Directors for keeping the club moving forward during a difficult year. Hopefully we can get back to normal soon, and we are planning to hold our Annual Meeting and election of officers (which is usually in January) as soon as we can conduct a meeting where all members can safely attend. –Dennis Blackman, President, 2020
2020 Fishing Report
April 1st is opening day and normally a festive occasion at the club with a good group of winter-worn members, rods in hand, casting to hungry fall-stocked brook trout at Wiley Pond. 2020 was a different situation due to the Coronavirus which prompted the Administration and IFW to open the season early on March 20th, with no license needed until April 30th, in hopes of encouraging people to get outside and away from confined areas. Although Wiley and other coastal ponds and rivers offered areas of fishable open water, many northern areas remained iced over. The Medomak River in Waldoboro, usually a productive spot, was often congested with anglers. Club members who drove over to fish often found it packed with local worm dunkers, spin and fly fishermen, and then turned around to find other spots.
Immediately after the early opening, Gov. Mills, on March 24th declared non-essential businesses shut down, which included Maine's sporting camps, the majority of whose clients, and income, are from out of state. Reservations were cancelled, protests and law suits took place and confusion as to local jobs and livelihoods ensued. Still, one could fish fresh water with or without a license, and many of the newly jobless took advantage. Bass, white perch, or a couple trout on the plate could save a few bucks while providing enjoyment.
The 2020 striper fishing was on and off in the Boothbay Region. Pogies were plentiful but mackerel, hot one day vanished the next, often making bait-catching a challenge. Nevertheless, schoolie stripers between 14" and 24" could be found around the usual Linekin Bay, Mill Cove, Boothbay Harbor fish piers, and Mouse Island hot spots. Quite a few large bass were taken by both charter boats and individual anglers at Popham Beach, some in the high 40" range and one reported to go 50". Other productive areas seemed to be in the Sheepscot and Kennebec Rivers. Some tinker mackerel schools appeared toward fall and provided great striper action when fished under a float. Casting or trolling lures and flies along the shoreline is a fine way to release a few schoolies or snag an occasional "keeper" over 28". A tape measure in your pocket insures your "keeper" is between the 28"- 35" slot.
Trips out to the offshore banks for groundfish provided non-stop action for haddock. There were large cod landed and released due to no-possession regulations, but the cod population appears to be increasing. Pollock and cusk were catchable and dogfish were rarely a menace. A few early-season halibut were landed locally, and bluefin tuna catches were perhaps higher than previous years for Boothbay rod-and-reelers, but lower fat content and covid-related lack of demand issues kept ex-vessel prices low.
Given the challenges of the pandemic, both fresh and salt water fishing provided an enjoyable, safe, potentially inexpensive, and cuisine-enhancing pursuit. –Steve Rubicam
*********MAINE STATE FISHING REGULATIONS REMINDER********
Wiley Pond is closed to all fishing (ice & open water) during the months of January and March. It is open for ice fishing in February but only to children under the age of 16, with no live baitfish allowed and a limit of two lines per child. The regular open-water season resumes on April 1st.
Range Committee Report
 The BRF&G ranges in 2020 experienced some of the same maintenance issues as other years. We did install some of our donated telephone poles across the ranges in preparation for new target frames. Target frames will now be individual, opposed to the previous multi- target system, in hopes to aid in repairs in the future. ;
Note to members: If you see target frames in need of replacement, please feel free to do so. Frames should be made of 2x3 posts to slip in to the sockets on the back of the telephone poles. Keep in mind that the frames need to be low enough to keep bullets in the berm.
The 50-yard berm was firmed up and heightened by members Dave Rumney, Timber Brown, and Martin Page. The material used was generously donated by member Dale Hahn. New target frames were shortened on the 100-yard range to help keep shots lower on the berm, and thanks to Ken Anderson for that improvement.
The summer IR50 bench-rest .22 LR matches were a success again this year, and we welcomed a few new shooters as well some of the regulars intent on upping their game and equipment. The .22 shoots are every other Thursday night starting in early May. Keep an eye on the club website calendar for dates and start times. All .22 shooters are welcome!
Please note that all club firing ranges are closed for the entire month of February so that youngsters may safely use the pond for ice fishing. And finally, only current members with current ID cards and pins are permitted to use our ranges and range facilities. –Keith Royal
2020 Ice Fishing Derby Another Success!
Our annual Kids' Ice Fishing Derby was held on Wily Pond on Saturday, February 15th, and despite temperatures barely above zero for the 8:00 am start and some "challenging" fishing compared to some previous derbies, sunny skies, a warm club house, safe ice, and lots of enthusiasm helped make the event another big success
Fifty-four kids under the age of 16 and some 35 adults turned out for the derby. Approximately 40 brook trout were caught (with many released), and 18 were entered in the contest by the 2:00 pm deadline. First place, good for $100 cash and a beautiful trophy, went to Dylan Chryplewicz for his 15 ¼" fish. Second place, for $50 cash and a trophy, was won by five-year-old Ben Alley for his trout, which measured 14 7/8". Abbie Clark finished third and received $25 cash and a trophy for her 14 3/4" fish. Robbie Shaw collected $20 for catching the first trout of the derby, which measured 9 ½", and Ben Alley added $20 to his winnings by catching the last fish entered, which measured 9". Other notable catches included Ryan Clark's 14 ½-incher, Anthony Barter's 14 ¼-incher, Ethan Clark's 12 7/8-incher, and an 8 ¾-inch trout taken by Chase Carver.
After the fish awards were given out by Official Fish-Measurer Michelle Breyer, every young contestant attending the ceremony at the club house went home with a door prize, ranging from rod and reel outfits to hats and bandanas to bags of popcorn and fishing tackle.
Kids and adults alike enjoyed free pizza, hamburgers, hot dogs, hot chocolate, venison & moose stew, baked beans, American chop suey, cookies, brownies, and soft drinks in the club house during the derby. Loaner ice traps, tackle, and bait were available to those who were new to the sport, and there were plenty of willing adults with ice augers to drill holes.
The club wishes to extend thanks to those who contributed prizes, food, or their time, including Jeff at Ames Supply, Tim and Deb at T&D Variety, Steve Wood, Bobo at Hometown Convenience, Dan Williams, Dabney Lewis, Andy & Reese Davis, Betty Maddocks of Janson's Clothing, Julie Roberts of Coastal Maine Popcorn, Carl Jordan, Matt and Heidi Spurgin, Billy Smith, Pat Lavalley, Andrea Kelly, and Kathy Page. Special thanks also to Club members Dennis Blackman, John Splaine, Timber Brown, Michelle Breyer, Keith Royal, Jonathan Tuell, Paul Perry, and Ken Anderson for all their contributions, and major kudos to Derby Director Martin Page for providing the trophies and for all his time and effort in putting together yet another successful Derby that went off without a hitch. --Barry Gibson
Fall Turkey Shoots
The 2020 Fall Turkey Shoots were fairly successful, and Shootmaster Tom Davis did his usual fine job of commandeering the events. Participation was a bit slim at first, but built up steadily, and on the last shoot on November 1st we had some 20 to 25 contestants, including a number of youngsters, for the shotgun card shoots, .22 mechanical target event, skeet, bench-rest rifle, and timed rifle events. John and Peggy Splaine did a great job in the cook shack, turning out breakfast burgers, hamburgers, hot dogs, and all the fixin's. The shoots and cook shack brought in around $900, with some $500 in expenses for prizes and food, so we ended up in the black again for 2020. Hopefully we'll see stronger participation in 2021 when Covid-19 is well behind us. –Barry Gibson
Ben Rumney Receives 2020 Clayton Dodge Life Skills Award
Ben Rumney of Boothbay Harbor, son of club member Dave Rumney, was the recipient of the 2020 Clayton Dodge Life Skills Award of $500. A 2020 graduate of Boothbay Region High School, he's now attending the University of Maine's Engineering Wing.
Ben had excellent grades while at BRHS, and was a member of the National Technical Honors Society and the National Honors Society. He was also a member of the VEX Robotics Competitor School Robotics Team that builds competition robots. In addition he served as Town Secretary, Nationalist Party Secretary, and Justice of the Supreme Court for Dirigo Boy's State.
Congratulations Ben! The club wishes you the very best in your academic and career pursuits.
(Details and requirements for the award are on the club web site at www.brfga.comunder "Scholarship Fund.")
SCROLL DOWN FOR RENEWAL APPLICATION
BOOTHBAY REGION FISH & GAME ASSOCIATION
NEW MEMBERSHIP/ RENEWAL APPLICATION
Single Membership Dues $50.00 Family Membership Dues $65.00
Single Membership _____ Family Membership: _____
NEW MEMBER ONE-TIME APPLICATION FEE: $25.00
LAPSED MEMBERSHIP REINSTATEMENT FEE (2 yrs. or more lapsed membership): $25.00
THIS APPLICATION IS FOR: NEW MEMBER _____ RENEWAL _____ REINSTATEMENT______LIFETIME ­­­_____
A family membership includes up to 2 heads of household & only dependent children under the age of 18. You must provide names of dependent children on back of form along with DOB for each. All persons age 18 or over (including children of members) must have their own memberships.
Name: ___________________________________________ Tel. #: _________________________________________
Mailing Address:__________________________________________________________________________________
E-mail Address (please PRINT clearly)_________________________________________________________________
Number of cards needed ___ Name(s) on card__________________________________________________________
NOTE: The annual membership period runs from the Annual Club Meeting in January of the current year to the Annual Club Meeting in January of the next year.
LIABILITY RELEASE:As a member of the Boothbay Region Fish and Game Association, Inc., I agree to waive and release from liability and agree to hold harmless the following: The Boothbay Region Fish and Game Association, Inc., its elected officers and representatives, for any and all damages of any kind or nature to my person and property arising out of or resulting from my direct or indirect participation in any and all Association activities or exercises of membership or privileges. I attest that I will not use the club firing ranges until I have successfully completed a formal Range Orientation Session. Furthermore, I understand that persons under the age of 18, including my dependent children/family members, are prohibited from using the firing ranges unless accompanied and closely supervised by a parent or other BRF&GA member in good standing over the age of 21 who has completed a Range Orientation. I agree to abide by all BRF&GA bylaws, rules and regulations (visit www.brfga.com). Finally, I state that I have read all of the above and have kept a copy for my own information.
SIGNATURE: ____________________________________________________________ DATE____________________
NEW MEMBERS:Print out and bring to a meeting with check/cash for your annual dues & application fee (checks to be made out to BRF&GA). Meeting are held on the 3rd Wednesdays of each month.
RENEWALS:Print out and bring application and check/cash to a meeting, renew in person at Timber's Tire & Auto on Rte. 27 Boothbay, or TDR Auto Supply at 14 Oak St. BBH. Or, mail check and application to:
BRF&GA P.O. BOX 408 BOOTHBAY, MAINE 04537-0408
_ _ _ _ _ _ _ _ _ _ _ _ _ _ _ _ _ _ _ _ _ _ _ _ _ _ _ _ _ _ _ _ _ _ _ _ _ _ _ _ _ _ _ _ _ _ _ _ _ _ _ _ _ _ _ _ _ _ _ _ _ _ _ _ _ _
For Office Use Only: S/O date and given by: Pin/card(s) given: Y / N
Membership year(s): Donation:
Committees: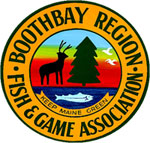 P.O. Box 408, 447 Dover Rd., Boothbay, ME
To email the club: info@boothbayregionfishandgame.com
© All rights reserved 2016 - 2020 Boothbay Region Fish & Game Association
Web Design by KaSondera at: www.completewebpagedesign.com