2021 Officers
President: John Splaine
Vice-President: Carl Schmidt
Secretary: Barry Gibson
Treasurer: Keith Royal
Directors-at-Large: Martin Page, Jack Pawlowski, Russell Jones, Carl Jordan.
Meetings
Regular meetings are called to order at 7:30 pm on the third Wednesday of each month at the BRF&GA clubhouse. These normally last less than an hour, and conclude with a $1 raffle. Normally there is a complimentary informal supper at 6:30 prior to the meeting meeting, please check the calendar for info. The January meeting also serves as the club's Official Annual Meeting, when election of officers is conducted.
Committees
The club has a number of standing committees including Range, Grounds, Building, Hunter Safety, Freshwater Fishing, Saltwater Fishing, Archery, Nominating, Membership, Publicity, and Entertainment & Program, plus Special Committees appointed to address issues or activities outside the purview of the standing committees. Not all committees are active all of the time, but participation by members in the ones that are is encouraged.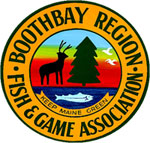 P.O. Box 408, 447 Dover Rd., Boothbay, ME
To email the club: info@boothbayregionfishandgame.com
© All rights reserved 2016 - 2020 Boothbay Region Fish & Game Association
Web Design by KaSondera at: www.completewebpagedesign.com