BRFGA Club Notes
Goings On

Oct 21 meeting is 5pm on the 50yd range byo chair

*********
Fish & Game Assoc. Turkey Shoots To Start Sunday, Sept. 27th
The Boothbay Region Fish & Game Association will continue its long-standing tradition of conducting "Old Fashioned Fall Turkey Shoots" starting this Sunday, September 27th, which will then run each Sunday through November 1st. We will be practicing social distancing, and masks are encouraged but not required.
The shoots will be held at the club rifle ranges at 447 Dover Rd. in Boothbay starting at 10 am, and those interested in participating need to show up by 12:00 noon at the latest. Events will include .22 rifle at a mechanical target, clay pigeon (skeet), 100-yard bench rest and offhand hunting rifle, and a shotgun "card shoot." The popular card shoot, won by whoever gets a shotgun pellet closest to the "x" on an index card at 50 feet, is an all-luck event that can as easily be won by a novice as an expert.
Entry fee is $2 per shooting event, or two for $3. Prizes include a variety of frozen turkeys, chickens, hams, pork roasts, and more. Businesses and individuals who would like to donate prizes (gift certificates are especially welcome) are encouraged to contact Barry Gibson at 633-5929.
Coffee, hot dogs, hamburgers, and cold drinks will be available at the club cook shack for nominal charges. These fun shoots, which help provide funding for the Association, are open to the public and shooters of all ages and skills are cordially invited to participate. For more information on the club visit www.brfga.com.
***********
CLUB MAINTENANCE PROJECTS
A request was made at the July meeting of the Boothbay Region Fish & Game Association for a list of projects that need to be done at the club. All members are invited to come up and take on any of the following:
--Cut back the brush on the pathway to the club house, cut back brush around club house, cook house, out by the dock, around the pistol range, and behind the 50-yard shoot house
--Put a new roof on the shed.
--Install T-111 on back of cook house and paint cook house.
--Trim out 50-yard shoot house and finish fastening the roof.
--Build 50-yard target frames.
--Repair club house ceiling in kitchen and over hot water tank.
--Replace shingles on club house.
--Remove trash around club house.
--Build up low spots on the driveway.
--Cut and split firewood by the pistol range and take to club house.
--Clean club house and remove old books.
--Replace approx. 10 planks on casting pier.
The club will reimburse for any materials purchased for these projects, just provide the receipts. Or, see one of the officers for assistance in purchasing materials via club accounts.
Remember, it's not "the club," it's "your club."
The Officers & Directors
Boothbay Region Fish & Game Association, Inc.
IMPORTANT NOTICE - FIRING RANGES STATUS
We hope all Boothbay Region Fish & Game Association members are staying home and practicing the mandated measures for keeping safe during this unprecedented period. We want you to stay healthy so you can enjoy the club to its fullest extent once this is over.
CLUB FIRING RANGES: There have been a lot of questions about the use of our firing ranges. The guidance we have been given is that firing ranges can remain open open in the state of Maine, as long as social distancing and group sizes are maintained and enforced.
We will allow club ranges to remain open (pending further state restriction) with the following provisions:
1. No more than 5 persons may use, or be on, the 50-yard and 100-year ranges (combined) at any given time.
2. No more than 2 persons may use, or be on, the pistol range at any one time.
3. Social distancing (6 feet between persons) must be maintained at all times. This needs to be
enforced in
order for the club to remain compliant with the state mandate for ranges.
All club members have the authority to enforce the social distancing and maximum person usages.
4. Members must disinfect the chairs, benches, door handles, etc. that they have used before leaving. Many commercially available spray disinfectants will be adequate. It is also recommended that members disinfect the chair/bench they intend to use BEFORE they shoot.
5. ALSO, a reminder that all club firing ranges are closed from 5:00 p.m. until 10:00 a.m.every day for the entire month of April. This is a long-standing daily closure we have maintained for years to accommodate fishermen out in the pond in the mornings and evenings.
Hopefully this will work. If there are observations or reports of violations, the Board of Directors will have no choice but to shut down the ranges completely for the duration in the interest of the health and safety of our members and to comply with state mandates. Be advised that the Lincoln County Rifle Club in Damariscotta has chosen to close all its ranges indefinitely.
RANGE ORIENTATIONS: Range Orientations have been suspended. We will notify the membership via email just as soon as we can conduct them again. No member is permitted to use any of the firing ranges without first attending a Range Orientation. This will be enforced. We apologize for any inconvenience.
FISHING: Fishing is an allowed outdoor activity by the state at this time. The fishing pier will remain open, but social distancing must be maintained and enforced. No more than 3 persons are permitted to use the pier at any one time.
We are hoping that we can keep the club facilities open during this difficult time, but to do so we need all members' cooperation and understanding. Many thanks.
Boothbay Region Fish & Game Association, Inc.
**********
Fish & Game Assoc. Kids' Ice Fishing Derby Another Success
The Boothbay Region Fish & Game Association's annual Kids' Ice Fishing Derby was held on Wily Pond on Saturday, February 15th, and despite temperatures barely above zero for the 8:00 am start and some "challenging" fishing compared to some previous derbies, sunny skies, a warm club house, safe ice, and lots of enthusiasm helped make the event another big success
Fifty-four kids under the age of 16 and some 35 adults turned out for the derby. Approximately 40 brook trout were caught (with many released), and 18 were entered in the contest by the 2:00 pm deadline. First place, good for $100 cash and a beautiful trophy, went to Dylan Chryplewicz for his 15 ¼" fish. Second place, for $50 cash and a trophy, was won by five-year-old Ben Alley for his trout, which measured 14 7/8". Abbie Clark finished third and received $25 cash and a trophy for her 14 3/4" fish. Robbie Shaw collected $20 for catching the first trout of the derby, which measured 9 ½", and Ben Alley added $20 to his winnings by catching the last fish entered, which measured 9". Other notable catches included Ryan Clark's 14 ½-incher, Anthony Barter's 14 ¼-incher, Ethan Clark's 12 7/8-incher, and an 8 ¾-inch trout taken by Chase Carver.
After the fish awards were given out by Official Fish-Measurer Michelle Bryer, every young contestant attending the ceremony at the club house went home with a door prize, ranging from rod and reel outfits to hats and bandanas to bags of popcorn and fishing tackle.
Kids and adults alike enjoyed free pizza, hamburgers, hot dogs, hot chocolate, venison & moose stew, baked beans, American chop suey, cookies, brownies, and soft drinks in the club house during the derby. Loaner ice traps, tackle, and bait were available to those who were new to the sport, and there were plenty of willing adults with ice augers to drill holes.
The club wishes to extend thanks to those who contributed prizes, food, or their time, including Jeff at Ames Supply, Tim and Deb at T&D Variety, Steve Wood, Bobo at Hometown Convenience, Dan Williams, Dabney Lewis, Andy & Reese Davis, Betty Maddocks of Janson's Clothing, Julie Roberts of Coastal Maine Popcorn, Carl Jordan, Matt and Heidi Spurgin, Billy Smith, Pat Lavalley, Andrea Kelly, and Kathy Page. Special thanks also to Fish & Game Club members Dennis Blackman, John Splaine, Timber Brown, Michelle Bryer, Keith Royal, Jonathan Tuell, Paul Perry, and Ken Anderson for all their contributions, and major kudos to Derby Director Martin Page for providing the trophies and for all his time and effort in putting together yet another successful Derby that went off without a hitch.
The Kids' Ice Fishing Derby, which is free and open to all children under the age of 16, has become a popular winter event in the Boothbay Region and the club is planning to hold it again next February.
***********
RANGE ORIENTATION
As a reminder, all BRF&GA members, current and new, who intend to use the firing ranges must complete a one-time Range Orientation before they are authorized to do so.
The next range orientation will be scheduled soon at the club.
It will last about 30 minutes and be held outside
The Officers & Directors
Boothbay Region Fish & Game Association, Inc.
***********
RANGE HOURS & ORIENTATION
ALL CLUB FIRING RANGES are closed between sunset and 8:00 a.m. (except in February & April when different times apply). This needs to be strictly adhered to out of consideration for our club property neighbors. This sunset to 8:00 a.m. closure has been made clear at the Range Orientations. Violations will result in termination of membership. As a further reminder, ALL members must participate in a 30-minute Range Orientation before being allowed to use the club ranges. If you haven't done one, let us know and we will try and accommodate you.
HANDICAP PARKING: The club now has a designated handicap parking area (with signs) next to the footbridge. Please be advised that wheelchair-accessible vans (which are usually marked as such) need at least six feet of clear space on either side of the vehicle so the individual can get in and out. Thanks for your cooperation on this.
The Officers & Directors
Boothbay Region Fish & Game Association
*************
NEW GATE LOCK
We are trying out a new style of combination padlock on the club gate. The advantage is that the numbers are much easier to see and operate than on the brass padlocks.
The four-number combination needs to be set at the BOTTOM of the lock, where there are two small, square cast "nubs" on either side of the number.
The bail has to be pushed in before you pull it out. It should come right out when you set the correct opening combination.
To re-lock the lock, the CORRECT COMBINATION needs to be in place, or else the bail will not fully go back into the lock body.
Once the bail is fully re-inserted into the lock body, simply rotate one or more of the thumb-wheels and the lock is re-set for the next person.
Boothbay Region Fish & Game Assoc.
************
BRFG TARGET STAND
This stand is portable and similar to the wooden stands the club often uses. The height can be increased to match your preferred shooting distance, range, and best berm impact. The base can be made from plywood or other available wood and comes apart for flat transportation. Works best with a cardboard backer.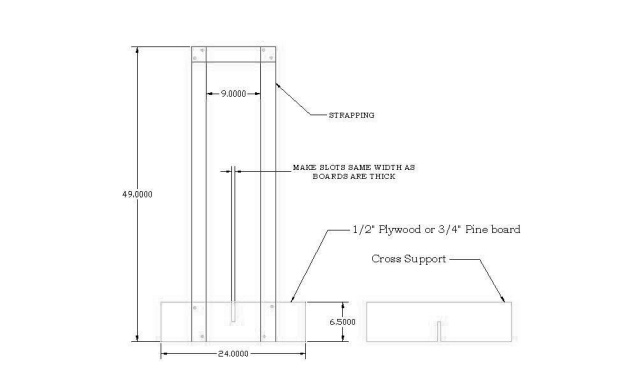 **************
A ONE-TIME RANGE ORIENTATION IS NOW REQUIRED FOR ALL BRF&GA
MEMBERS WHO INTEND TO USE THE CLUB FIRING RANGES
The Boothbay Region Fish & Game Association has made the decision to require all members who intend to use the ranges, both new members and existing members, go through a short, one-time Range Use & Safety Orientation.
New Members will need to take the orientation before they will be issued badges and ID cards. Existing members will need to take the orientation before, or when they renew for 2020 in order to use the ranges.
Renewals for 2019 can be made anytime from now into 2020. Members will be asked to sign a copy of our Range Rules to indicate they have completed the orientation and understand the rules.
More orientations, conducted by Keith or other club officers, will be held in the future.
Members who do not plan to use the ranges at all do not have to participate in the orientation. However, these members will be prohibited from using the ranges at any time and will be removed from the club if they do.
The whole idea of the orientations is to be sure every member using the ranges understands how the ranges operate, what is required for safe shooting, and the range rules. Successfully completing the orientation and signing the Rules Sheet will indicate to the club that the member understands the rules and protocols of our firing ranges.
We thank everyone for their cooperation.
The Officers & Directors
Boothbay Region Fish & Game Association, Inc.
Thanks to Keith!
Another big thank-you goes out to Keith Royal for all his efforts in keeping our driveway and parking areas plowed out for meetings and for access to the ranges and buildings. And many thanks to Dennis and Ken for snowblowing the bridge and path. Great job everyone!
**********
President Dennis Blackman, right, presents Curt West of Boothbay a special plaque commemorating Curt's 67th year as a member of the club. Curt joined in June of 1949 and has been a faithful member ever since.
************
Do NOT place targets on the upright posts with the post in the center of the target. Your shots will destroy the posts and create a mess on the range requiring unnecessary maintenance. Always fasten the targets between the posts using a backer board if necessary.
WRONG WAY CORRECT PLACEMENT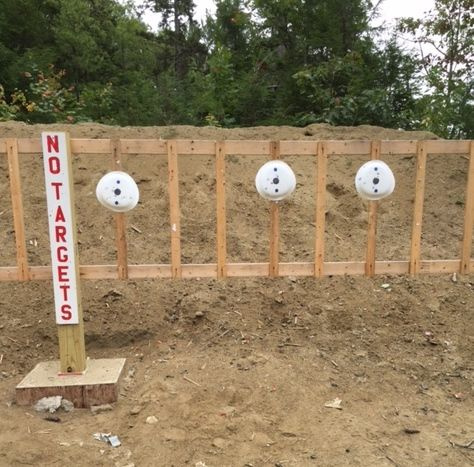 Refreshing the Clayton Dodge memorial at the club with Hosta at spring work day.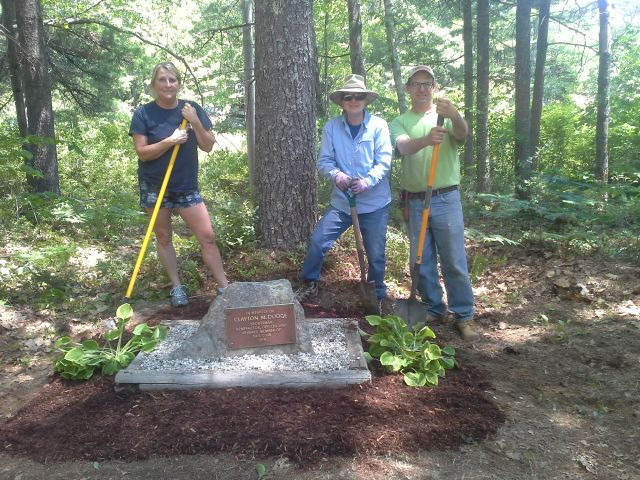 Hot Range Flag.
The "hot range" flag pole has been installed at the gate and red flag ordered. After the flag has arrived, members entering the club driveway to shoot should raise the flag to let others know the range is hot and the last to leave should take it down and store it in the box at the bottom of the pole.
Range safety is primary, please do your part. Thanks.
When fishing Wiley Pond from a watercraft life jackets are required by law. Children under 12 should wer them on the fish pier. There is a 2 trout limit and only artificial lures and flies may be used.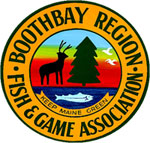 P.O. Box 408, 447 Dover Rd., Boothbay, ME
To email the club: info@boothbayregionfishandgame.com
© All rights reserved 2016 - 2020 Boothbay Region Fish & Game Association
Web Design by KaSondera at: www.completewebpagedesign.com