BRFGA Club Notes
Goings On
The Boothbay Region Fish & Game Association will close the 50-yard and 100-yard rifle ranges until approx. 4:00 pm this Friday, Saturday and Sunday, August 23-24-25 for scheduled IR 50/50 sanctioned shooting events. The pistol range will remain open.
---
Additionally, both rifle ranges will be closed tomorrow, Thursday, August 22, at 4:00 pm to accommodate preparations for the IR 50/50 shoots.
Also, the painting of the 50-yard pavilion house, originally scheduled for September 7th, has been moved to Saturday, September 14th.
The Officers & Directors
Boothbay Region Fish & Game Association, Inc.
IR 50/50 Thursday August 22 Match Time Change
Due to earlier sunsets the Thursday 8/22/19 IR 50/50 Match at the BRFGA range will begin promptly at 5pm with registration and practice starting at 4 pm. It is open to all .22 rifles and members of the public. Come and shoot or just watch the match.
August Monthly Meeting - Range Orientation
The Boothbay Region Fish & Game Association will hold it regular monthly meeting this Wednesday, August 21st, at 7:30 pm at the club house.
Ken Anderson will be conducting a Range Orientation before the meeting, at 6:30. As a reminder, all new and current members must attend a one-time Range Orientation before they are permitted to use the firing ranges.
Hope to see you at the meeting!
The Officers & Directors
Boothbay Region Fish & Game Association, Inc.
************
BRFGA July 25th Bench Rest Match
The Thursday, July 25th match was the third held at the Boothbay Region Fish and Game Assoc. range this season. Again there were a both unlimited bench rest guns that are heavily customized and sporters which are basically off the shelf .22 rifles. A first time shooter with a sporter .22 illustrated why we have been encouraging participation in this enjoyable "shoot what ya got" competition. His first 50 yard target with a 250 possible score was under 100 and disappointing, his second target improved to the mid 100's, with additional help on set up and some advice from the experienced bench competitors he was able to score an impressive 200 on his last target. This amount of improvement is very satisfying. Cub members and folks who just like to shoot are encouraged to join us in a match. It is both fun & educational.
Watching the experienced unlimited shooters techniques is fascinating. While each individual has their own method I had a chance to see Keith Royall doing his thing while I was reloading a magazine for my stock 30 yr old Ruger 77/22. Keith would carefully slide his rifle back and forth in his front rest to get it in the same position for each shot, sight through his 24X scope while turning micrometer adjustment knobs and keeping an eye on the wind indicators on the course. He could slightly offset his rifle's aim depending on wind speed and direction. When all seemed optimum, without touching his rifle or even looking through the scope he would engage the rifle's 2 oz trigger with a light finger touch for the shot. The bench guns scores so far have been between 245 and 249 out of a possible 250 with up to 15 -17's. The X is the size of a pencil dot and 10 ring less than 1/4".
Us "Sporter" folks shoot the more customary way sighting and adjusting aim by moving front or rear bags for vertical and horizontal adjustment just like sighting in a scope. Initially, we may want to ignore the wind flags and concentrate on consistency of hold and trigger pull until becoming consistent. After shooting your first match and analyzing the improvements needed it is good to spend an hour at the range experimenting to find the hold and trigger pull your gun work best with, the ammunition brand that prints the most consistent tight groups, and then set a your goal for your next match.
The next match will be August 8th at the club on the Dover Rd. Check the web site calendar for a possible time change under consideration due to the earlier sunset. www.BRFGA.com
BRFGA July 11 Bench Rest Match
The July 11th IR 50/50 bench rest match was enjoyed by six shooters and again a variety of .22's were on the line. Instead of scoring between the three 25 shot 250 point targets like last week it was left until the end which moved the match along at a nice pace resulting in shooting being completed before the rain and darkness threatened. The top scores from the bench rest experts with finely tuned top equipment and 24X scopes were in the 245, 249 range with lots of X's. It is fascinating to see their equipment and technique in consistently hitting a 10 ring at 50 yds that is less than 1/4 inch in diameter. They were followed by the shooters with antique/classic bench rifles hitting in the very respectable 230's with many 10's & X's. Those of us with off the shelf .22's with lower power scopes were concentrating on tuning our rifles and developing consistency. One "stocker's" score improved 110 points over last week's match with several 200+ scores simply by reading online recommendations as to setting up rests and experimenting with ammo & trigger control. These bi-weekly matches are a great opportunity to wring out your rifle and technique, see how the experienced competitors asset, and get tips and advice from them. The next match is July 25th, open to the public, any .22 and any sights, is a non-competitive learning experience, and loads of fun. Details are on the calendar and club news at www.brfga.com. Hope to see you on the 25th at the range. 5pm sign up, match promptly at six, and a sighter target is available if you wish.
The 50 yard course of fire is three targets of 25 bullseyes each with 20 minutes for each target including unlimited sighters for scope or wind corrections. There is a break between targets for scoring and to reset the next target. Shooters didn't seem at all rushed to complete the course in 20 min. In fact, one experienced shooter said he could shoot the 25 in eight minutes. The less experienced, like myself, took longer needing to become familiar with adjusting the front & rear sand bags or rests for an accurate sight picture and then wondering why that perfectly lined up shoot didn't go exactly where it was supposed to.
********
IR 50 Match Information
From: Keith Royal
I will be introducing IR50/50 rimfire (.22 only) matches at our club this summer, starting this Thursday, 6/27 with registration beginning at 5 pm. Shooting starts promptly at 6 pm and are open to the public as well as all members. The shoots will continue every other Thursday into September. Keep an eye on our club's calendar at
www.brfga.com
for any additional shoots that may be held.
IR50 is a nationwide (mostly East Coast), sanctioned rimfire benchrest shooting organization. There are several types of matches that we can do, but in our case I've chosen the Unlimited Class due to some of the restrictions in the other classes.I want all those interested to be able to shoot.
We will be shooting at 50 yards off the bench, on either the 50- or 100-yard rifle ranges, depending on the number of competitors at each match. In the Unlimited Class shooters will have 20 minutes to complete the 25-shot targets. There are three targets per match. There are also sighter bulls on the target, which shooters can use to get dialed in, or practice, throughout the target.
Unlimited is just that. Any weight rifle, any power scoped (recommended) rifle, and also any type of bench rest such as blocks, sandbags, mechanical, etc. The match fee is $10 per shooter for the three targets. Half goes to IR50, the other to the club.
At these matches you will see some custom rifles and equipment at times, but I do not want that to discourage anyone who wishes to shoot. Bring yours or grampa's 'ol 22 out and get the most out of it you can. Try and improve each time, and consider possibly taking it to some other level. You will get out of it what you put into it, trust me.
Hope to see you there!
Keith Royal
Match Director
***********
Fish & Game Assoc. Kids' Ice Fishing Derby Draws Biggest Crowd Ever!
By Barry Gibson
The Boothbay Region Fish & Game Association's annual Kids' Ice Fishing Derby was held on Wily Pond on Saturday, February 16th, and the weather and the fish were more than cooperative.
Seventy-seven kids under the age of 16 and some 50 adults – the largest number ever -- turned out for the event. Skies were clear, the sun was shining, and light winds with temperatures in the mid-30s made for pleasant fishing conditions despite a very slushy-on-top -- but safe -- ice.
Approximately 100 brook trout were caught (with many released), and 27 were entered in the contest by the 2:00 pm deadline. First place, good for $100 cash and a beautiful trophy, went to Grady Gamage for a 15 ¼" fish. Second place, for $50 cash and a trophy, was won by Sammy Doucette for her trout, which also measured 15 ¼". J.J. Pray finished third and received $25 cash and a trophy for his 15" fish, and Avery Barter came in fourth, good for $20 cash. Ryan Clark rounded out the pack with a fifth-place trout, also good for $20. Honorable mention went to Tim Clavette for entering the first fish of the contest, Madilyn Alley for entering the last fish, and Bryce Watson for the smallest trout measured in the derby.
After the fish awards were given out, Official Fish-Measurer Michelle Bryer drew door prize tickets, and every young contestant attending the ceremony at the clubhouse went home with a prize, ranging from rod and reel outfits to ice traps to bags of fishing tackle. Dean Brewer won the 50-50 raffle, and walked away with $50 in cash.
Kids and adults alike enjoyed free pizza, hot dogs, hot chocolate, venison stew, pulled pork, chili, desserts and soft drinks in the heated club house during the derby. Loaner ice traps, tackle, and bait were available to those who were new to the sport, and there were plenty of willing adults with ice augers to drill holes.
The club wishes to extend special thanks to those who contributed prizes and food, including Ames Supply, Big Al's Super Values, Grover's Hardware, T&D Variety, Steve Wood, Bobo at Hometown Convenience, Dan Williams, Dicky Bredeau, Dabney Lewis, Andy & Reese Davis, Sue Flaherty, Betty Blackman, and Paul Perry. Special thanks also to Fish & Game Club members Dennis Blackman, John Splaine, Ken Anderson, Timber Brown, and Michelle Bryer for all their contributions, and major kudos to Derby Director Martin Page for providing the trophies and for all his time and effort in putting together yet another successful Derby that went off without a hitch.
The Kids' Ice Fishing Derby, which is free and open to all children under the age of 16, has become a popular winter event in the Boothbay Region and the club is planning to hold it again next February
As a reminder, Wiley Pond is closed to all ice fishing except during the month of February, when it is open only to kids under 16, and those with a special dispensation license from the state.
Also, remember that ALL club firing ranges are closed during the month of February.
***********
RANGE HOURS & ORIENTATION
ALL CLUB FIRING RANGES are closed between sunset and 8:00 a.m. (except in April when different times apply). This needs to be strictly adhered to out of consideration for our club property neighbors. This sunset to 8:00 a.m. closure has been made clear at the Range Orientations. Violations will result in termination of membership. As a further reminder, ALL members must participate in a 30-minute Range Orientation before being allowed to use the club ranges. If you haven't done one, let us know and we will try and accommodate you.
HANDICAP PARKING: The club now has a designated handicap parking area (with signs) next to the footbridge. Please be advised that wheelchair-accessible vans (which are usually marked as such) need at least six feet of clear space on either side of the vehicle so the individual can get in and out. Thanks for your cooperation on this.
The Officers & Directors
Boothbay Region Fish & Game Association
*************
NEW GATE LOCK
We are trying out a new style of combination padlock on the club gate. The advantage is that the numbers are much easier to see and operate than on the brass padlocks.
The four-number combination needs to be set at the BOTTOM of the lock, where there are two small, square cast "nubs" on either side of the number.
The bail has to be pushed in before you pull it out. It should come right out when you set the correct opening combination.
To re-lock the lock, the CORRECT COMBINATION needs to be in place, or else the bail will not fully go back into the lock body.
Once the bail is fully re-inserted into the lock body, simply rotate one or more of the thumb-wheels and the lock is re-set for the next person.
Boothbay Region Fish & Game Assoc.
************
BRFG TARGET STAND
This stand is portable and similar to the wooden stands the club often uses. The height can be increased to match your preferred shooting distance, range, and best berm impact. The base can be made from plywood or other available wood and comes apart for flat transportation. Works best with a cardboard backer.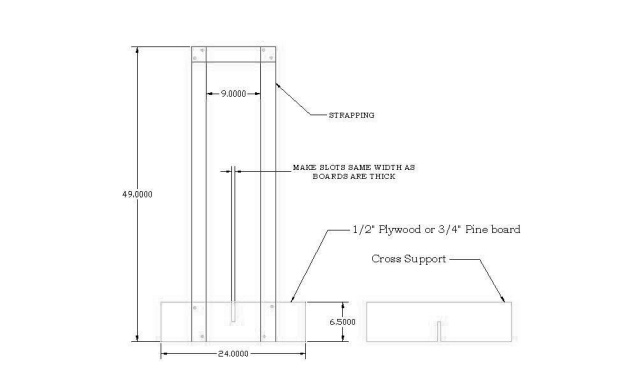 **************
A ONE-TIME RANGE ORIENTATION IS NOW REQUIRED FOR ALL BRF&GA
MEMBERS WHO INTEND TO USE THE CLUB FIRING RANGES
The Boothbay Region Fish & Game Association has made the decision to require all members who intend to use the ranges, both new members and existing members, go through a short, one-time Range Use & Safety Orientation.
New Members will need to take the orientation before they will be issued badges and ID cards. Existing members will need to take the orientation before, or when they renew for 2019 in order to use the ranges.
Renewals for 2019 can be made anytime from now into 2019. Members will be asked to sign a copy of our Range Rules to indicate they have completed the orientation and understand the rules.
More orientations, conducted by Keith or other club officers, will be held in the future.
Members who do not plan to use the ranges at all do not have to participate in the orientation. However, these members will be prohibited from using the ranges at any time and will be removed from the club if they do.
The whole idea of the orientations is to be sure every member using the ranges understands how the ranges operate, what is required for safe shooting, and the range rules. Successfully completing the orientation and signing the Rules Sheet will indicate to the club that the member understands the rules and protocols of our firing ranges.
We thank everyone for their cooperation.
The Officers & Directors
Boothbay Region Fish & Game Association, Inc.
Thanks to Keith!
Another big thank-you goes out to Keith Royal for all his efforts in keeping our driveway and parking areas plowed out for meetings and for access to the ranges and buildings. And many thanks to Dennis and Ken for snowblowing the bridge and path. Great job everyone!
**********
President Dennis Blackman, right, presents Curt West of Boothbay a special plaque commemorating Curt's 67th year as a member of the club. Curt joined in June of 1949 and has been a faithful member ever since.
************
Do NOT place targets on the upright posts with the post in the center of the target. Your shots will destroy the posts and create a mess on the range requiring unnecessary maintenance. Always fasten the targets between the posts using a backer board if necessary.
WRONG WAY CORRECT PLACEMENT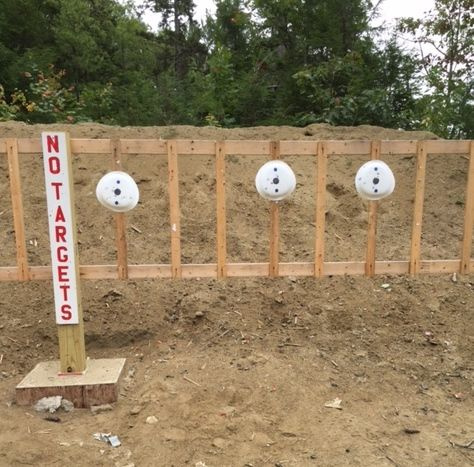 Refreshing the Clayton Dodge memorial at the club with Hosta at spring work day.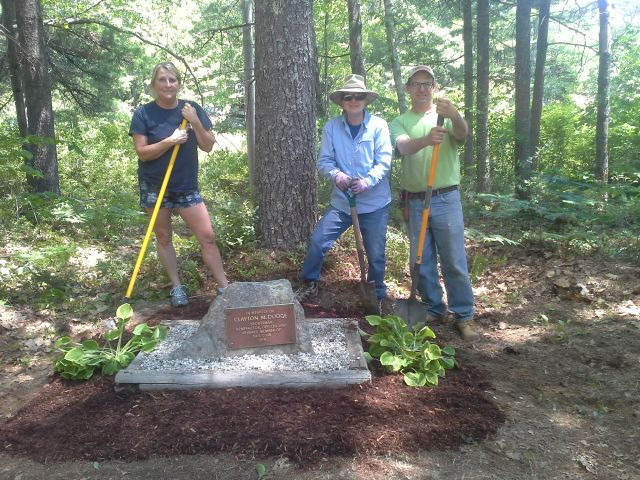 Hot Range Flag.
The "hot range" flag pole has been installed at the gate and red flag ordered. After the flag has arrived, members entering the club driveway to shoot should raise the flag to let others know the range is hot and the last to leave should take it down and store it in the box at the bottom of the pole.
Range safety is primary, please do your part. Thanks.
When fishing Wiley Pond from a watercraft life jackets are required by law. Children under 12 should wer them on the fish pier. There is a 2 trout limit and only artificial lures and flies may be used.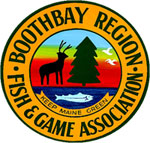 P.O. Box 408, 447 Dover Rd., Boothbay, ME
To email the club: info@boothbayregionfishandgame.com
© All rights reserved 2016 Boothbay Region Fish & Game Association
Web Design by KaSondera at: www.completewebpagedesign.com