THE BOOTHBAY REGION FISH & GAME ASSOCIATION, INC.
GENERAL RULES
We have a combination padlock on our gate on Dover Rd. Members may enter and exit our property in their vehicles as they wish. The gate must be locked and the padlock snapped shut behind you after you enter the gate. The same goes for when you leave -- lock the gate, snap the padlock shut, and rotate the tumblers.
The lock combination is for the sole use of members in good standing (i.e. those who have paid their dues for the current year). The dissemination of the combination to others is prohibited. If there is a question, contact a club officer.
Alcohol and drugs are prohibited. Use of such on club property will result in termination of membership.
Our bylaws require you to wear or otherwise display your club pin whenever you are on club property. You should also have your club ID card in your possession when you are on the property. If you are a new member, an officer may ask to see your ID card until they get to recognize you.
You may bring guests to the club for fishing or shooting activities. You as a member must always accompany them when they are on our property, and you are responsible for their conduct and safety.

Range hours are 8am until sunset.
Clean up after yourself on the firing ranges! Shotshell husks, targets, ammo boxes, etc. must be removed from the property or discarded in the dumpster. There is a bucket for brass shells. (For full range rules visit www.brfga.com).
Just as an FYI, non-members are permitted to park on Dover Rd. and walk in to access the pond for fishing only. Non-members are prohibited from using the firing ranges or other club facilities. Contact a club officer if you see a violation. We allow non-members to access the pond via our property in return for annual brook trout stocking by the Maine Dept. of Inland Fisheries & Wildlife.
Note that Wiley Pond has special state fishing regulations. It is open from April 1

st to December 31st. Wiley is closed to all fishing January through March except for the IF&W authorized Kids February Ice Fishing Derby. No ice fishing (except when authorized by Maine IF&W), no motorboats (incl. electric), and artificial lures only. Anglers may keep a maximum of two brook trout (6" minimum) per day. A Maine freshwater fishing license is required.
You may store your own rowboat or canoe in an out-of-the-way spot on club property. The club assumes no responsibility for theft or damage.
---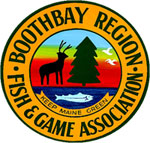 P.O. Box 408, 447 Dover Rd., Boothbay, ME
To email the club: info@boothbayregionfishandgame.com
© All rights reserved 2016 - 2020 Boothbay Region Fish & Game Association
Web Design by KaSondera at: www.completewebpagedesign.com