Clayton Dodge Life Skills Award
The Boothbay Region Fish & Game Association has finally achieved a long-standing goal of establishing a fund to assist the youth of our organization as they prepare for their future. Although funds of this type are traditionally referred to as scholarship funds, we are calling ours the Clayton Dodge Life Skills Award for reasons explained as you read on.
The award may be used for college, technical or other school expenses, or for the purchase of books, tools, equipment, etc. that may be required in the pursuit of the applicant's chosen endeavor. The Association counts among its members people from all walks of life and so seeks to help the same.
The award will be presented once annually in the calendar year in which the applicant graduates from high school. To be eligible, the applicant and /or their sponsoring parents or grandparents shall have been a member in good standing of the Association for at least three years prior to the date of graduation. Scholastic achievement, social and community values, and financial need shall all be considered in selecting a recipient.
The award shall be announced at the time of graduation. The actual dispensing of the award shall be made at such time as the recipient has demonstrated successful completion of his or her second semester of school studies, or six successful months in a chosen vocation. The award shall be dispensed in the form of payment sent directly to any supplier of goods or services with whom the recipient has incurred a debt while pursuing their chosen field of endeavor.
Applicants may apply from January 1st to no later than April 1st for the award.
The award is funded directly by dedicated monies from our membership dues and club activities. A strong and active membership will help to perpetuate this award. Members and friends of the Association who wish may make contributions to this fund directly or in memory of a loved one. as many have already done.
Your efforts and contributions are greatly appreciated!
---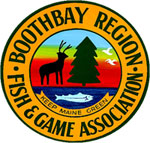 P.O. Box 408, 447 Dover Rd., Boothbay, ME
To email the club: info@boothbayregionfishandgame.com
© All rights reserved 2016 - 2020 Boothbay Region Fish & Game Association
Web Design by KaSondera at: www.completewebpagedesign.com